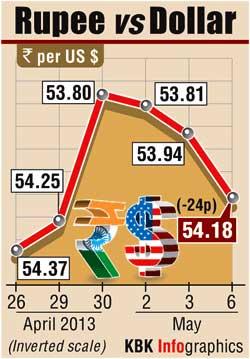 The rupee fell to its lowest in nearly a week on Monday on continued dollar demand from state-run banks, likely related to the government's defence purchases.

The fall in the currency comes on the back of Friday's weakness after the central bank disappointed markets with a hawkish tone at its annual monetary policy, despite delivering a widely expected 25-basis-point rate cut.

Dealers cited continued dollar buying, particularly by a large state-run bank, as the main trigger for the rupee's fall.

However, dealers are watching out for inflows related to some recent corporate deals which should provide some support for the rupee, particularly Qatar's $1.26 billion investment in Indian telecommunication company Bharti Airtel.

"I expect the rupee to move in a 53.60-54.80 band for now in the absence of any global developments or
policy announcements. However, if the global dollar strength persists and 54.80 gets breached, the rupee may see a sharp downside," said Abhishek Goenka, chief executive at India Forex Advisors.
The partially convertible rupee closed at 54.175/185 per dollar, weaker than its close of 53.935/945 on Friday, its third successive session of falls.
It fell to 54.2475 in session, a level last seen on May 1.
The euro was seen struggling against the dollar after surveys on Monday showed euro zone private sector activity faltered again in April, suggesting the region may fall deeper into recession this quarter.
In the offshore non-deliverable forwards, the one-month contract was at 54.37 while the three-month was at 54.89.
In the currency futures market, the most-traded near-month dollar/rupee contracts on the National Stock Exchange, the MCX-SX and the United Stock Exchange all closed around 54.26 with a total traded volume of $4.2 billion.