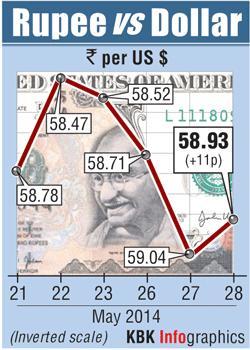 The rupee snapped a three-day losing streak on Wednesday as dollar inflows related to foreign funds and companies helped offset heavy month-end demand for the greenback from oil and other importers.

Traders also cited occasional dollar buying by the Reserve Bank of India, although the intervention was not believed to be as aggressive as in recent weeks.

Traders will continue to focus on the measures new Prime Minister Narendra Modi led government will take to bring down the fiscal deficit and fight inflation.

"There was good dollar selling seen today, likely some corporate flows as well.

"Foreign banks were mostly on the sell side while there were importers and state-run
firms seen bidding," said A. AjithKumar, a foreign exchange dealer with Federal Bank.
"There is a good technical support for the pair at 58.35 levels which the central bank defended last time.
"If that level is broken we could see the pair fall more, if not, we could head back towards 59.50 again," he added.
The partially convertible rupee closed at 58.93/94 per dollar compared to 59.04/05 on Tuesday.
Foreign investors have bought a net $1.46 billion in debt over the past four sessions, bringing their total buying so far this month to $3 billion.
In shares, despite some modest selling over the past few sessions, net inflows in May are $2.4 billion.
In the offshore non-deliverable forwards, the one-month contract was at 59.21 while the three-month was at 59.76.