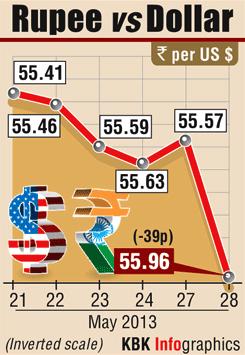 Falling to nearly nine-month lows, the rupee today closed just shy of 56-level against the dollar after it slumped by 39 paise to end at 55.96, weighed down by month-end demand for the US currency from importers and defence-related purchases.

The dollar strengthening against major currencies overseas also put pressure on the rupee which struggled to recover despite over $125 million inflows coming into domestic stocks, forex dealers said.

At the Interbank Foreign Exchange market, the domestic currency commenced weak at 55.68 a dollar from Monday's close of 55.57 against the dollar.

However, it later recovered to a high of 55.64 but failed to sustain the momentum and dropped to a low of 55.99, on heavy dollar demand from importers, mainly oil refiners to meet their month end requirements, before concluding at 55.96, a fall of 0.39 paise, or 0.70
per cent.
The rupee had risen yesterday after a six-day long losing streak, in which it had hit 56.01 last Thursday.
This was rupee's lowest level since September, 2012.
"The rupee's fall today was not due to any fundamental reason as such.
"Some short-term dollar demand due to month end and defence-related purchases pulled it down.
"Also concerns of GDP numbers, which will be announced later this week, falling below market expectations also hit the currency," said K Hariharan, Treasurer at First Rand Bank.
The dollar index was up by 0.06 per cent against a basket of six major currencies.
"The trading range for the USD/INR pair is expected to be within 55.75 to 56.25," Pramit Brahmbhatt, CEO, Alpari Financial Services (India) said.