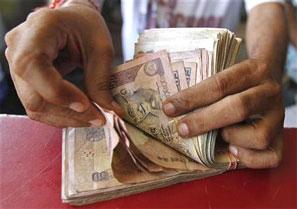 Extending losses for the third day, the rupee today fell 33 paise -- its biggest drop in over two months -- to end at 59.04 against the dollar as overseas investors pulled out funds from stocks and on month-end importer demand for the US currency.

After losing 24 paise in two days, the rupee commenced weak at 58.80 a dollar at the Interbank Foreign Exchange market from its previous close of 58.71.

It immediately touched a high of 58.79 but later declined to a low of 59.11 before concluding at 59.04, logging its lowest closing since May 15 when it had settled at 59.29.

Today's fall of 33 paise, or 0.56 per cent, is the biggest since 39-paise depreciation on March 20 this year.

"Domestic currency was markedly paring its gains against the American Unit on the back of genuine dollar demand by corporates to pay import bills.

"Expectations that the central bank would not allow the rupee to appreciate further also led to increased demand for the greenback," said Abhishek Goenka, Founder & CEO, India Forex Advisors.

Meanwhile, BSE Sensex today tumbled 167.37 points while FIIs pulled out stocks worth nearly Rs 203 crore.

Pramit Brahmbhatt, Veracity Group CEO said, "Rupee continued to depreciate for the third consecutive day and weakened over half per cent during the day to trade over 59.00 levels.

Month end dollar demand from oil importers has forced rupee to trade weak. The trading range for the Spot USD/INR pair is expected to be within 58.50 to 59.50."


BJP heavyweight Rajnath Singh was today appointed the Home Minister and Sushma Swaraj the External Affairs Minister while Arun Jaitley was given Finance with defence as additional charge as Prime Minister Narendra Modi effected a major restructuring of the cabinet to ensure synergy and efficiency.
Experts sounded confident of an economic recovery under the stewardship of Modi.
"Despite their significant rally in recent weeks, we maintain our positive bias toward INR assets in the near term. We expect an early glimpse of the new government's economic policies when the budget is announced, likely in early July.
"We believe the NDA, buoyed by its resounding victory, will pursue economic reforms, in line with Mr Modi's campaign theme of economic growth and development and as detailed in the BJP's manifesto," Barclays said in a report.
Meanwhile, premium for forward dollar declined on fresh receipts by exporters.
The benchmark six-month premium payable in October dipped to 205.5-207.5 paise from 208-210 paise previously.
Far-forward contracts maturing in April, 2015 fell back to 432.5-434.5 paise from 434.5-436.5 paise.
The Reserve Bank of India fixed the reference rate for dollar at 59.0585 and for the euro at 80.6048.
The rupee dropped further against the pound to 99.34 from 98.87 previously and also remained weak to end at 80.52 per euro from 80.09.
The rupee declined to 57.94 per 100 Japanese yen from 57.62.