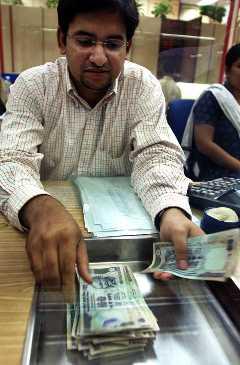 The Indian rupee posted its biggest single-day rise in nearly a week after Reuters reported that India's finance ministry was working on a proposal to cut fiscal deficit, with gains also helped by improving global risk sentiment.

The rupee hit a session high of 58.41 per dollar, stopping just short of an 11-month peak on Monday, on the Reuters report that India's finance ministry was hoping to cut the 2014/15 fiscal deficit to 3.8-3.9 percent of gross domestic product, below the current target of 4.1 percent.

Also helping the gains were stronger Asian currencies on the back of improved Chinese factory activity and the US Federal Reserve's signal that it would not raise interest rates anytime soon.

Meanwhile, domestic shares also edged higher, recovering from Wednesday's falls.

However, the Reserve Bank of India was spotted buying dollars through state-run
banks after the rupee hit its session high, traders said. That is expected to keep the rupee within a range for now.
"Only a break of 58.30 per dollar will revive some rupee-positive sentiment and until such time, we will trade between 58.30 to 58.90," said Hemal Doshi, a currency strategist at Geojit Comtrade Ltd.
The partially convertible rupee closed at 58.4675/4775 per dollar, not far from 58.3750 reached on Monday, its strongest level since June 18 last year. It closed at 58.7750/7850 on Wednesday.
Traders cited little impact from the RBI's move late on Wednesday to ease gold import rules by allowing more private agencies to ship the precious metal, since it was seen as unlikely to make much of an impact on the current account deficit.
In the offshore non-deliverable forwards, the one-month contract was at 58.70, while the three-month was at 59.29.