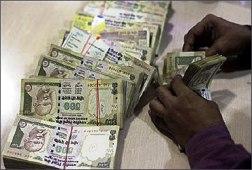 Continuing its upward march for the third straight day, the rupee today jumped by 28 paise to settle at over one-week high of 54.28 on robust capital inflows and sustained dollar selling by exporters and banks.

The rupee resumed better at 54.52 a dollar from previous close of 54.56 at the Interbank Foreign Exchange market and immediately touched a low of 54.56.

However, the local currency later rallied to a high of 54.27 before concluding at 54.28, a rise of 28 paise or 0.51 per cent.

In three days, rupee has spurted by 64 paise or 1.17 per cent.

The dollar index was trading nearly stable with upward bias ahead of key US jobs data.

"Rupee
was seen trading above its one week high against the USD supported by bullish equities and the disinvestment in RCF which took place today.
"Government sold a 12.5 per cent stake in RCF to raise about $57 million.
Strong recovery in the Euro also supported rupee gains," said Abhishek Goenka, Founder and CEO, India Forex Advisors.
The outlook for capital inflows remains favourable with more PSU share sales expected to hit the markets this month, bankers said.
The benchmark S&P BSE Sensex on Friday gathered further momentum and flared up by 269.69 points, its largest gain in 2013 so far, or 1.39 per cent to end at one-month high.
Foreign Institutional Investors had bought shares worth $126.85 million on Thursday, as per Sebi data.