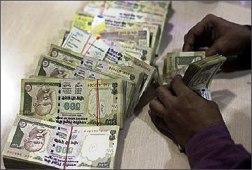 Tracking upward movement in local stocks, the Indian rupee on Wednesday bounced back by 20 paise, its biggest gain in a week, to close at 54.72 amid fresh dollar selling by exporters and some custodian banks.

Sustained foreign funds inflows of over Rs 500 crore (Rs 5 billion) in stocks also helped the rupee recovery while late recovery in dollar overseas later put some pressure on the rupee, a forex dealer said.

At the Interbank Foreign Exchange market on Wednesday, the rupee started on a firm note at 54.74 a dollar from previous close of 54.92.

It improved further to a high of 54.61 on strong rally in local stocks amid renewed dollar selling by exporters and some banks.

The rupee later fell back to a low of 54.88
on some dollar demand from importers, mainly oil refiners and early weakness in dollar value in global market.
Finally, it closed a tad better at 54.72, registering 20 paise gain or 0.36 per cent.
This was the currency's best gain since 23 paise rise on February 27, 2013.
The dollar index recovered its early losses and was trading up by 0.11 per cent against a basket of six major rivals.
"Rally in domestic stock markets following record highs made by the Dow Jones Industrial Average on Wall Street yesterday lent support to the rupee. Recovery in the euro was short lived as problems in Europe were going to have a long lasting negative impact on the Euro and consequently on the rupee," Abhishek Goenka, Founder and CEO, India Forex Advisors.