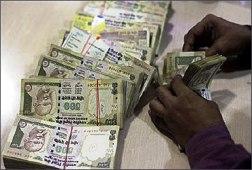 Tracking weak stock market, the rupee on Thursday extended its losing run to the second day by plunging 44 paise to one-month low of 54.87 on US dollar demand and heavy capital outflows.

At the Interbank Foreign Exchange (Forex) market in Mumbai, the rupee commenced weak at 54.50 a dollar from previous close of 54.43 and immediately touched a high of 54.49.

With Indian stocks under pressure, the rupee tumbled to a low of 54.89 on emergence of dollar demand from importers and some banks on expectations of further rise in dollar overseas.

It concluded at 54.87, a fall of 44 paise or 0.81 per cent.

The dollar index was up by a whopping over 0.6 per cent against a basket of six major rivals as the Japanese yen on Thursday
dipped after the Bank of Japan lived up to expectations with a massive easing programme.
India remains dependent on debt related and short-term portfolio flows to bridge Current Account Deficit, said Anindya Banerjee, Currency Analyst, Kotak Securities.
Rupee could remain under pressure against the dollar going forward, within a range of 54.50 and 55.30 on spot, he added.
"The rupee fell to its lowest level in almost a month amid volatile trade. "The concerns on the capital inflows will leave the currency more vulnerable to a CAD. Also the capital flows into emerging markets may be diverted to the US as a recovery in world's largest economy is gathering momentum," said Abhishek Goenka, Founder and CEO, India Forex Advisors.
On Wednesday, foreign institutional investors is sold stocks worth Rs 368 crore (Rs 3.68 billion).