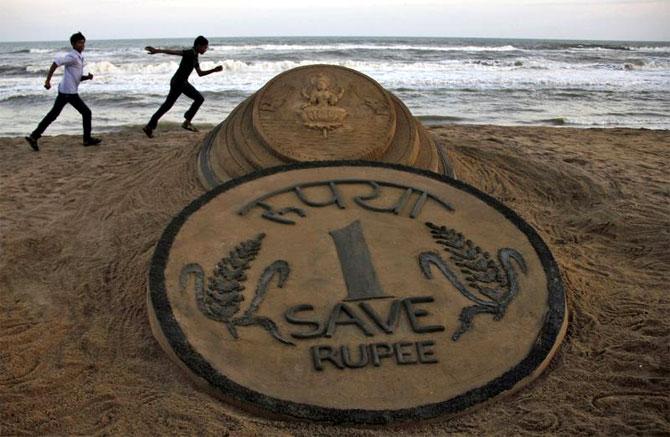 Extending gains against the American currency for the third day on Monday, the rupee firmed up by 28 paise to close at 3-week high of 66.97 on sustained selling of dollars by exporters on the back of strong foreign capital inflows.
The rupee opened sharply higher at 66.95 against last Friday's closing level of 67.25 per dollar at the Interbank Foreign Exchange (Forex) market here today and firmed up further to 66.85 before ending at 3-week high at 66.97, showing a gain of 28 paise or 0.42 per cent.
The rupee had last ended at 66.97 per dollar on May 18, 2016.
The rupee has gained by 48 paise or 0.72 per cent in three trading days.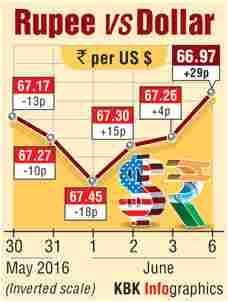 The domestic currency hovered in a range of 66.85 and 67.0550 per dollar during the day.
Heavy capital inflows mainly boosted the rupee value against the dollar, a forex dealer said. Foreign portfolio investors and foreign institutional investors bought shares worth a net Rs 1,585.01 crore last Friday, as per provisional data released by the stock exchanges.
Meanwhile, the dollar index was up 0.13 per cent against the basket of six global currencies.
The RBI fixed the reference rate for the dollar at 66.9614 and euro at 75.9409.
In cross-currency trades, the rupee continued to rule firm against the pound sterling and closed at 96.54, compared to 96.98 on last Friday while fell against the euro to end at 75.99 from 74.94 earlier.
It weakened further against the yen to settle at 62.50 per 100 yens from 61.78 yesterday.
Photograph: Reuters