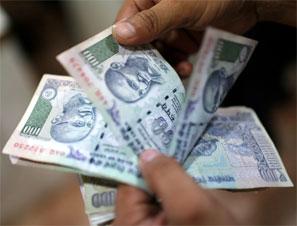 The rupee on Wednesday appreciated 38 paise -- its biggest single-day rise in seven weeks -- to close at 59.69 against the US dollar on optimism that the budget next week would contain strong measures to put finances and the economy back on track.

Dollar selling by exporters amid lack of dollar demand from importers and continued capital inflows also helped the rupee rise for the second day in a row, say forex dealers.

At the Interbank Foreign Exchange market, the domestic currency resumed stable at its overnight close of 60.07 a dollar and immediately touched a low of 60.09.

It later bounced back in line with smart rise in local equities to a high of 59.62 before settling at 59.69, showing a rise of 38 paise or 0.63 per cent.

It is the biggest gain in absolute term since May 16 when it had risen 50 paise.

The benchmark S&P BSE Sensex today zoomed by 324.86 points, or 1.27 per cent, to end at new peak. FIIs picked up shares worth Rs 856.35
crore on Tuesday.
"Rupee was seen riding on the pre-budget optimism after Finance Minister Arun Jaitley's speech yesterday raised expectations for fiscal consolidation. Gains in stock markets and sustained capital inflows further provided support to the appreciation of rupee," said Abhishek Goenka, Founder & CEO, India Forex Advisors.
Technically, the USD-INR pair has breached the key level of 60.00 on the downside, and the next immediate support is at 59.50, he added.
Indicating that his maiden budget next week will not indulge in 'mindless populism', Finance Minister Arun Jaitley yesterday had said the government would take bold decisions and pursue path of fiscal prudence to revive economy.
Yes Bank estimates that 'reduction in fiscal deficit' along with improvement in growth-inflation balance will be supportive for rupee.
"While oil could provide some near term risk to the rupee, with expected turnaround in the economy, USD-INR is likely to move towards 58 levels by December 2014," its economists said in a report.