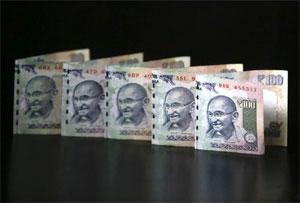 The rupee strengthened to its strongest level in a week and half on Wednesday as continued foreign fund inflows into the domestic share and debt markets aided while gains in other Asian units also helped.

Traders expect the rupee to remain wedged between the 59.60 and 60.50 levels in the absence of any key triggers in the near-term.

The next major event for financial markets in India is the Reserve Bank of India's monetary policy review on August 5.

The Nifty brose to a record high, gaining for a seventh straight session, led by technology stocks on continued buying by foreign-investors on a positive earnings outlook, while firm Asian markets also helped.

Overseas buying of shares and debt continued, taking total investments across the two segments to $24.7 billion so far in 2014.

"I believe 60.05 is going to be a crucial support for the USD/INR. It needs to be seen if this level can be broken, which can then take it to 59.77 or even 59.55,"
said Deepak Agarwal, a foreign exchange trader with First Rand Bank.
"State-run banks are there at all levels to buy dollars, so don't expect very sharp gains. The next major event for the market now is only the policy review," he added.
The partially convertible rupee closed at 60.0925/1025 per dollar compared with 60.24/25 on Tuesday. The unit hit 60.0550 during the session, its strongest since July 14.
Traders will continue to monitor moves in other Asian currencies for clues in the near-term. Most Asian currencies gained on Wednesday.
But dealers say oil-related dollar demand, which is due to gather pace towards the month-end, is likely to cap broader gains in the rupee, while a stand-off between Russia and the West also continues to spark uncertainty in global markets.
In the offshore non-deliverable forwards, the one-month contract was at 60.26 while the three-month was at 61.75.