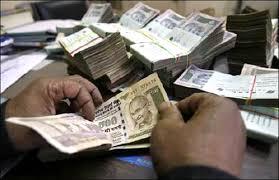 Bucking a weak trend in Indian stocks, the rupee on Thursday surged by 22 paise to close at a fresh three-week high of 61.75 against the US currency on persistent selling of dollars by banks and exporters.
Debt-related inflows also continued to support the rupee which rose for the third straight session, said forex brokers.
The rupee opened higher at 61.93 per dollar as against the yesterday's closing level of 61.97 per dollar at the Interbank Foreign Exchange (Forex) Market.
Later, the rupee hovered in a range of 61.70 per dollar and 61.99 per dollar before ending at 61.75 per dollar, showing a gain of 22 paise or 0.36 per cent. This is its best closing since 61.69 on February 6.
The domestic currency has gained by 56 paise or 0.90 per cent in the three days. Veracity Group, CEO, Pramit Brahmbhatt said: "Today also the rupee continued to appreciate on corporate inflows. Exporters too were seen selling the dollars at higher levels which supported the rupee in spite of the weak local markets."
The dollar index is also trading weak which further supported the rupee.
"RBI likely bought dollars earlier in the session via state-run banks to keep rupee's gains in check," said Admisi Forex India, Pvt Ltd, Director, Suresh Nair. Indian markets today logged their worst daily drop in two weeks with benchmark Sensex tumbling 261 points to 28,746.65 and Nifty slipping over 83 points to below 8,700 mark after the first full Railway Budget of the Modi government disappointed market participants.
Crude oil prices fell in Asia today but losses were curtailed as dealers focused on positive elements of a mixed US energy stockpiles report, analysts said.