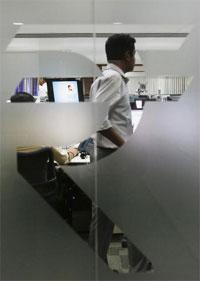 The rupee on Monday ended higher for the second consecutive day, moving up by another 3 paise to close at 62.16 against the dollar on continued selling of the US currency by banks and exporters.
The rupee resumed higher at 62.15 per dollar as against the last weekend's level of 62.19 per dollar at the Interbank Foreign Exchange (Forex) Market and firmed up further to a high of 62.0750 per dollar on initial selling of dollars by banks and exporters.
However, it washed out initial gains and ended at 62.16 per dollar, still showing a marginal gain of three paise or 0.05 per cent from its last close.
The domestic currency has gained by 15 paise or 0.24 per cent in the two days. The local currency hovered in a range of 62.0750 per dollar and 62.2300 per dollar during the day.
The dollar was lower against the yen in thin Asian trade today with investors having a relatively muted reaction to weaker-than-expected Japanese gross domestic product data.
Adding to the mood was the closure of U.S. markets for the President's Day national holiday.
In the New York market the ICE US Dollar Index finished lower for the third week in a row on last Friday as a mixture of weak US data and signs of growth in the eurozone threatened the buck's seven-month rally.
Veracity Group, CEO, Pramit Brahmbhatt said: "Rupee started the week on positive note. However, it ended the day almost flat. Investors are being cautious and are waiting for
the Eurozone meeting which scheduled in the evening even as we have seen the sell-off in the local equities which pushed the dollar up towards near previous day close".
Meanwhile, the Indian benchmark Sensex rose further by 40.95 points or 0.14 per cent to close at 29,135.88.
The forward premia showed a mixed pattern of trading. The benchmark six-month premium payable in July ruled eased to 209-211 paise from 210-212 paise on last Friday while forward contracts maturing in January 2016 moved up further to 421-423 pasie from 420-422 paise.
The Reserve Bank of India fixed the reference rate for dollar at 62.2023 and for Euro at 71.0039. The rupee recovered against the pound to 95.60 per pound from 95.74 previously and rebounded against the euro to 70.95 per euro from 71.00.
However, it declined further to 52.42 per 100 yen compared to 52.35 last weekend's level.