The Indian currency had appreciated by a whopping 85 paise in three-day surge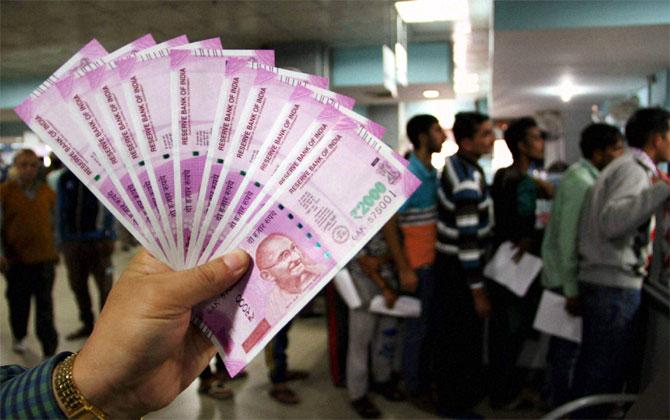 Breaking a three-day spectacular upmove, the rupee retreated modestly from a near one-month high to end at 67.42 against the US dollar as sentiment turned bearish ahead of Fed rate decision.
Renewed demand for the American currency from banks and importers alongside some caution ahead of macroeconomic data, IIP for October largely weighed on trade.
Moreover, currency traders preferred to stay on the sidelines and avoided taking any long positions ahead of a long weekend break with much awaited Fed meeting looming next week, a forex dealer said.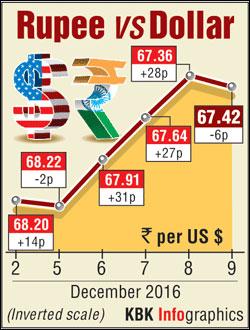 The Indian currency had appreciated by a whopping 85 paise in three-day surge.
At the Interbank Foreign Exchange (forex) market, the local unit opened lower at 67.49 from Thursday's closing value of 67.36 and kept descending to hit a fresh intra-day low of 67.64 due to strong dollar demand.
However, fag-end selling of dollars by some banks predominantly helped the rupee recoup its losses to settle at 67.42, showing a loss of 6 paise, or 0.09 per cent.
In worldwide trade, the greenback held steady against the other majors currencies as investors continued to digest the European Central Bank's latest policy move and eyed the release of US consumer sentiment data due later in the day.
ECB president Mario Draghi announced an extension of the groups two-year stimulus programme beyond the initial March 2017 expiration.
The US dollar index was quoted higher at 101.56 after rebounding from its three-week low in late afternoon trade.
Meanwhile, the RBI today fixed the reference rate for the dollar at 67.5840 and euro at 71.7607.
In cross-currency trades, the rupee bounced back against the pound sterling to finish at 85.01 from 85.43 and recovered sharply against the euro to close at 71.43 as compared to 72.68 earlier.
It also regained lost ground against the Japanese yen to conclude at 58.83 from 59.42 per 100 yens earlier.
The forex market will be closed on Monday for Eid A Milad.
In the forward market, premium for dollar fell back due to fresh receivings from exporter.
The benchmark six-month premium for May declined to 132-134 paise from 139-141 paise and the far-forward November 2017 contract also drifted to 277-279 paise from 288-290 paise yesterday.
On the equity front, bourses continued to maintain a firm trend led by frontline banking stocks as sentiment turned buoyant following additional stimulus measures from the ECB largely offsetting near-term disappointment about the Reserve Bank of India's decision to hold rates.
The flagship Sensex edged higher 52.90 points to end at 26,747.18, while Nifty gained 14.90 points at 8,261.75.
Meanwhile, crude prices extended gains on the back of growing optimism that non-OPEC producers might agree to cut output following a cartel agreement to limit production.
Photograph: PTI Photo