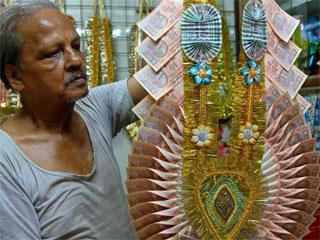 The rupee weakened to its lowest level in 13 months on Tuesday as markets in the region tumbled after a sharp rate hike in Russia further raised concerns about the global economy at a time when India's trade deficit is already widening.
Sliding oil prices and a downbeat China factory survey weighed on Asian shares on Tuesday, while the rouble jumped after Russia sharply increased its benchmark interest rate in a bid to halt a collapse in its currency.
The developments come after data on Monday showed India's trade deficit widened to an 18-month high in November.
By 9:15 a.m., the partially convertible rupee was at 63.45/46 per dollar versus its Monday's close of 62.94/95.
The unit earlier dropped as low as 63.46, its weakest level since Nov. 13, 2013.
Persistent capital outflows too weighed on the rupee while steep fall in USD overseas could not impact rupee, a forex dealer said.
Foreign portfolio investors pulled out USD 63.48 mln yesterday, as per Sebi data.
Meanwhile, the benchmark BSE Sensex collapsed by 538 points or 1.97 per cent, completing four-session of losing string.
A gauge of six major global rivals, the dollar index was down by a sharp 0.53 per cent. In forward market, premia recovered on fresh payments from banks and corporates.
The benchmark six-month premium payable in May ended at 202-204 paise from 201.5-203.5 paise previously.
Forward contracts maturing in November 2015 settled at 407-409 paise.
The Reserve Bank of India fixed the reference rate for dollar at 63.41 and for the ruro at 79.
The rupee plummeted further against the pound to 99.84 from Monday's close of 98.61 and also dived to 79.47 per euro from 78.223.
It declined to 54.64 per 100 Japanese yen from 53.05.