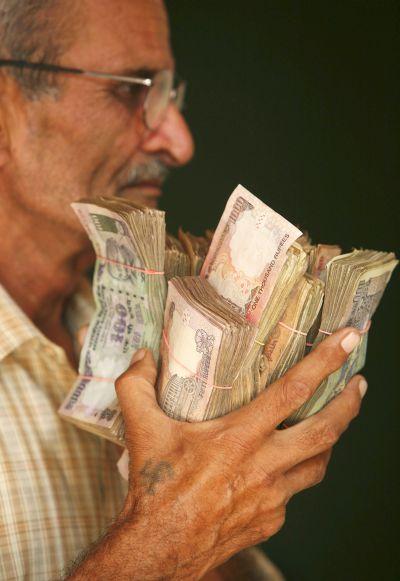 Continuing its downward march for the seventh straight session, the rupee today plummeted by 32 paise to close at 65.10 against the dollar, hitting its weakest level last seen in September 2013, as China further devalued yuan.
The rupee resumed higher at 64.72 as against yesterday's closing level of 64.78 at the Interbank Foreign Exchange and firmed up to 64.63 on initial dollar selling by exporters on the back of recovery in the equity market.
But, the domestic currency failed to maintain earliar gains and dropped to 65.23 before ending at 65.10 on fresh dollar demand from banks and importers, showing a loss of 32 paise or 0.49 per cent.
The rupee has dropped by 136 paise or 2.13 per cent in the last seven trading sessions as the Chinese central bank's continued effort to guide the yuan lower.
The domestic currency had last touched 65-level and ended at 65.24 on September 6, 2013. It moved in a range of 64.63 and 65.23 during the day.
The dollar was moderately higher against the yen and the euro in the global market today. Meanwhile, the Indian benchmark Sensex recovered by 37.27 points or 0.14 per cent to end at 27,549.53.
Pramit Brahmbhatt, Veracity Group CEO said, "The rupee continued to trade lower and today also it lost over half per cent for the day and closed at 65.10 as yuan devaluation aided dollar to trade strong against other major currencies.
The rupee lost almost 45 paise during the day to trade as low as 65.23, its lowest level since September 2013.
The trading range for the Spot USD/INR pair is expected to be within 64.70 to 65.70. In the forward market, the premium for dollar dropped further on sustained receivings from exporters.
The benchmark six-month premium payable in January dropped further to 199-201 paise from 205-207 paise yesterday and far-forward contracts maturing in July 2016 also moved down further to 421-423 paise from 429-431 paise.
The RBI fixed the reference rate for the dollar at 64.0212 and for the Euro at 72.2573.
The rupee dropped further against the pound sterling to close at 101.74 from 101.00 yesterday and also moved down further against the euro to 72.29 from 72.20.
The domestic currency also fell further against the Japanese currency to 52.30 per 100 yen from 52.14 yesterday.