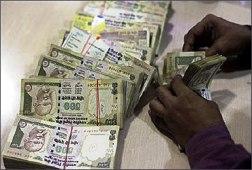 The rupee on Wednesday gained seven paise to close at 55.51 against the dollar on smart recovery in local equities after a five-day losing streak and selling of the US currency by exporters.

Forex dealers said some foreign fund flows and weakening of dollar overseas also aided the local currency to some extent.

The rupee commenced strong at 54.46 against the dollar from its previous closing of 54.58 at the Interbank Foreign Exchange market.

It moved in a range of 54.40-54.57 before settling at 54.51, up seven paise, or 0.13 per cent from its previous closing.

Snapping a five-day downward march, the BSE benchmark Sensex on Wednesday shot up by 187.97 points to 18,414.45.

Meanwhile, foreign institutional investors pumped in Rs 40.22 crore (Rs 402.2 million)
into local equities, as per provisional BSE data.
"A higher opening in the domestic equity market and strengthening of the euro and yen against the dollar overseas, supported the rupee," said Abhishek Goenka, Founder and CEO, India Forex Advisors.
The dollar index was down by 0.06 per cent against a basket of six major global currencies.
Next major movement in the rupee will be seen on Friday after the numbers for February industrial output and March consumer inflation are announced, First Rand Bank Treasurer K Hariharan said.