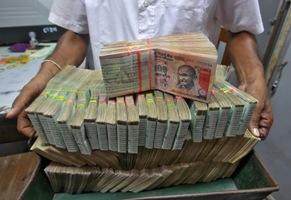 The Indian rupee ended weaker on Monday in cautious trading as the country kicked off a five-week election process and on importers demand for the greenback.

The rupee's fall was further accelerated as shares fell for a third straight day retreating from record highs hit last week, with the BSE index ending down 0.07 per cent.

Financial markets will remain closed on Tuesday for a local holiday.

In recent sessions, shares have rallied on hopes Hindu nationalist opposition leader Narendra Modi, a more business-friendly candidate, is seen coming to power on promises of economic revival and jobs.

However, the election manifesto unveiled on Monday by the main opposition Bharatiya Janata Party disappointed some invstors by opposing foreign direct investment in multi-brand retail.

"After a strong Modi-wave seen recently, the market is pricing in a slight disappointment as the BJP election manifesto seems less business friendly to foreigners," said Vikas Babu Chittiprolu, a senior foreign exchange dealer with state-run Andhra Bank, referring to the barring of foreign direct investment in multi-brand
retail.
The partially convertible rupee closed at 60.11/12 per dollar compared with 60.08/09 on Friday.
Overseas investors have so far bought Indian shares worth $4.46 billion in 2014, driving shares higher.
Capping the losses in the rupee, the Asian currencies were stronger with the latest US jobs report not seen as strong enough to raise expectations of an early rate hike by the Federal Reserve.
The unit rose as high as 59.5950 last Wednesday, its strongest since July 30, before starting to decline gradually.
Some forward dollar booking by importers to take benefit of the weak spot pushed INR forward premiums higher, a senior trader at a foreign bank said.
USD/INR one-year forward premium trading at 507.25 compared with its previous close of 502.75.
In the offshore non-deliverable forwards, the one-month contract was at 60.57, while the three-month was at 61.29.