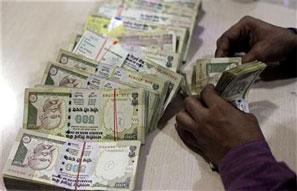 The Indian rupee rose for a second consecutive session on Wednesday, boosted by large dollar sales by exporters, but gains were capped by caution ahead of the U.S. Federal Reserve's policy meeting this week and as shares fell to 2-1/2 week lows.

The currency fell 0.7 percent in April after having hit an eight-month high of 59.5950 on April 2, as a rally in domestic shares stalled as India embarked on a five-week election process set to conclude next month.

The monthly fall snapped a 4.6 percent rally over February and March sparked by heavy foreign buying of shares on the back of an improving domestic economy and hopes that opposition Bharatiya Janata Party would sweep elections.

Until the outcome of elections on May 16, traders expect global factors and foreign flows to largely drive direction for the rupee. A key event will be the monetary stimulus withdrawal currently being undertaken by the US Federal Reserve, which is set to conclude its two-day
meeting on Wednesday.
"If the Fed sticks to paring stimulus by $10 billion as expected, and if there is no indication of interest rate hikes, then we may see little impact on the rupee," said Uday Bhatt, a senior foreign exchange dealer with UCO Bank.
"The rupee should hold at 60 per dollar for the time being," he added.
The partially convertible rupee closed at 60.31/32 per dollar compared with 60.42/43 on Tuesday.
Markets will be shut on Thursday on account of Labour Day.
Earlier in the session, a large state-owned bank was said to have sold dollars aggressively on behalf of a foreign client, which briefly lifted the rupee to a more than one-week high of 60.2650, a level last seen on April 21.
The broader NSE index fell 0.28 percent after earlier hitting its lowest level since April 7 as blue chips slumped in a bout of profit-taking.
In the offshore non-deliverable forwards, the one-month contract was at 60.68 while the three-month was at 61.42.