Notwithstanding a partial recovery on lower-than-expected headline inflation, the rupee on Monday closed down by 10 paise at one-week low of 54.62 on sustained dollar demand from importers and capital outflows.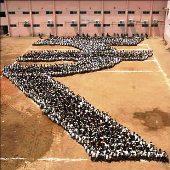 Forex dealers said the US currency gaining strength against rivals overseas also weighed down on the rupee sentiment. However, recovery in local equities cushioned the fall to some extent, they added.

The local currency commenced the day on a bearish note at 54.65 against the dollar from Friday's close of 54.52 at the Interbank Foreign Exchange (Forex) market.

Later, it fell to a low of 54.79 before gaining some ground to 54.58 and finally closing at 54.62, down 10 paise, or 0.18 per cent, from its previous close.

This is the lowest level hit by the local currency since April 5, when it had fallen to 54.81 against the dollar.

Foreign institutional investors continued to remain bearish on domestic stocks and pulled out around $77 million (Rs 418.37 crore) from markets, according to BSE provisional data.

"The rupee was seen weakening against the US dollar tracking strength in the dollar index. However better than expected inflation numbers supported the rupee to some extent," said Abhishek Goenka, Founder and CEO, India Forex Advisors.

The dollar index was up by 0.21 pct against a basket of six major rivals while New York crude oil futures was trading below $89
a barrel Monday.
Pramit Brahmbhatt, CEO, Alpari Financial Services (India) said: "Rupee depreciated on Monday but the fall was capped by the Indian shares which closed on positive ground after data showed wholesale price inflation at 5.96 per cent in March, lower than 6.84 per cent in February."
Meanwhile, the BSE benchmark Sensex recovered by over 115 points to 18,357.80.
Inflation based on the Wholesale Price Index (WPI) dipped to over three-year low of 5.96 per cent in March, from 6.84 per cent in February.
This may prompt the Reserve Bank to consider a rate cut in its annual monetary policy meet next month, experts said.
Meanwhile, the premium for the forward dollar continued to rule weak on sustained receivings by exporters.
The benchmark six-month forward dollar premium payable in September moved down to 173-1/2-175 paise from last Friday's close of 177-1/2-179 paise.
Far-forward contracts maturing in March also dropped to 344-345-1/2 paise from 349-350-1/2 paise.
The RBI fixed the reference rate for the US dollar at 54.6260 and for euro at 71.4150.
The rupee recovered slightly against the pound sterling to 83.75 from last weekend's close of 83.82 while reacted downwards against the euro to 71.42 from 71.18.
It also fell back sharply against the Japanese yen to 55.91 per 100 yen from previous close of 54.94.