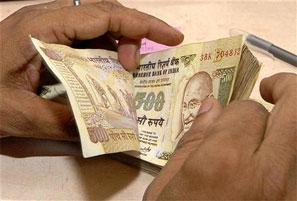 The rupee saw its biggest single-day fall in nearly three weeks on Monday as investors turned cautious ahead of the upcoming budget this week while lack of dollar inflows due to the US Independence Day holiday also hurt.

Traders said investors are unlikely to add large bets ahead of the budget on Thursday given concerns about volatility, although the rupee could be supported as continued foreign buying of shares sent indexes to record highs.

"With the budget session later this week, some volatility is definitely expected. Announcements related to the foreign direct investment in various sectors will be critical from the foreign exchange market perspective," said Ashtosh Raina, head of foreign exchange trading at HDFC Bank.

"The same range of 59.50 to 60.50
will continue until the budget," he added.
The partially convertible rupee closed at 60.0125/0225 per dollar compared with 59.72/73 on Friday. The unit moved in a range of 59.80 to 60.0450 during the session. The 0.48% fall on the day, was its biggest single-day fall since June 18.
Falls on Monday tracked weaker Asian currencies, with trading subdued as US markets were closed on Friday for a public holiday.
Still, the rupee was supported as foreign institutional investors bought shares worth $166.44 million and debt worth $402.69 million on Friday, regulatory data showed, taking total inflows in the year so far to $22.03 billion.
The Nifty rose to a third consecutive record high, while the Sensex surpassed 26,000 points.
In the offshore non-deliverable forwards PNDF, the one-month contract was at 60.23, while the three-month was at 60.79.