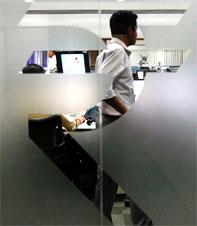 The rupee weakened for a third consecutive session on Monday as caution ahead of the Reserve Bank of India's (RBI) policy review and dollar demand from oil importers offset the biggest daily gains in domestic shares in three weeks.
Investors were focussed on the RBI's monetary policy review on Tuesday which will give an insight into its inflation and rates outlook.
All but three of the 52 economists polled by Reuters expect the RBI to hold key policy rates steady in its monetary policy review.
Currency market participants will also look for any comments on whether restrictions on gold imports will be eased, and on any potential measures to lift curbs on proprietary trading in currency futures and options that were imposed in July when the rupee was plumbing record lows.
"Tomorrow's policy is likely to be a non-event, but the market is looking for relaxation in import restrictions (on gold) and the lifting of curbs on proprietary trading in currency futures," said Vikas Babu Chittiprolu, chief foreign exchange dealer with state-run Andhra Bank.
The partially convertible rupee closed at 59.1525/1625 per dollar compared with 59.10/11 on Friday.
Large state-owned banks stepped in to buy dollars for oil companies, which offset the impact from the biggest gain in Nifty and Sensex since May 12.
The gains came in part after foreign investors purchased shares worth a net 29.77 billion rupees ($503.8 million) on Friday, after overseas funds had sold in five of the six sessions until Thursday.
Traders cited little impact from data showing the HSBC Manufacturing Purchasing Managers' Index (PMI) expanded at a slightly faster pace in May, or data from Friday showing the economy grew 4.7 percent in 2013/14, below the official estimate of 4.9 percent.
In the offshore non-deliverable forwards PNDF, the one-month contract was at 59.44 while the three-month was at 60.02.