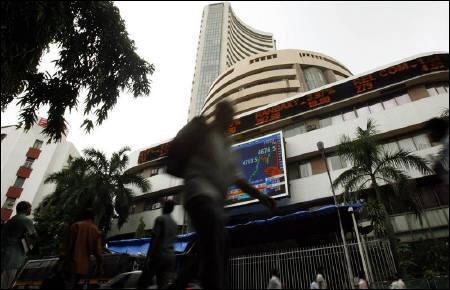 Discarding a weak economic growth number, markets today rose for the fourth straight day with BSE Sensex gaining 169 points to close at a new 19-month high on hopes of imminent rate cut to revive the slowing economy.
Shares from metal, power, PSU, banking, consumer durable, refinery and capital goods segments registered sharp to moderate gains.

The Bombay Stock Exchange 30-share barometer resumed higher and gradually moved upwards to settle at 19,339.90, a gain of 168.99 points or 0.88 per cent.
HDFC, ICICI Bank, ONGC, SBI, BHEL, Bharti Airtel, HDFC Bank, TCS, Jindal Steel, M&M and Sterlite Industries shares notched handsome gains on good buying.
The broader 50-issue Nifty of the NSE also rose by 54.85 points or 0.94 per cent to close at more-than 19-month high of 5,879.85, level not seen since April 21, 2011.
Brokers said the market remained in cheerful mode despite July-September quarter GDP coming at 5.3 per cent year-on-year as investors bet on a rate cut in RBI's policy review as early as January 2013 to boost economic expansion.
Industry growth in Q2 was hit mainly due to poor show by manufacturing, which grew marginally by 0.8 per cent, against 2.9 per cent in the same period of 2011-12.
"We think RBI will likely base its rate stance in December policy on November WPI inflation reading. We expect RBI to cut the repo rate in January 2013," said Espirito Santo Securities Chief India Economist Deepali Bhargava.
Given the tight liquidity scenario, a CRR cut at its December 18, 2012 policy review also looks likely, according to BNP Paribas.
The Sensex had regained 19,000 mark level by surging 834 points in the past four days on global cues and expectations that the government will push through economic reforms.
Reflecting the buying activity throughout the truncated week, both the key indices, the Sensex and the Nifty, recorded their biggest weekly gains in absolute term of 833.33 points and 253.25 points respectively -- their largest since last week of November 2011.
The main market movers, Foreign Institutional Investors (FIIs) had infused Rs 1,579.97 crore yesterday as per provisional data with stock exchanges, after pumping in Rs 1,168.70 crore on November 27, as per Sebi data.
On the global front, Asian markets, barring South Korea, closed with gains between 0.48-1.02 per cent following firm closing on Wall Street yesterday on hopes that a deal will eventually be reached to avoid the US fiscal crisis.
European stocks were also trading better in the afternoon business. The CAC was up by 0.16 per cent, the DAX by 0.34 per cent and the FTSE by 0.13 per cent.
Back home, 23 out of 30 Sensex-based scrips closed higher while others finished lower. Jindal Steel was the best gainer with a rise of 5.39 per cent, followed by BHEL (4.92 pc), ONGC (4.44 pc), Sterlite (3.24 pc), Hindalco (2.65 pc), HDFC (2.49 pc), Gail India
(2.31 pc), Tata Steel (2.24 pc), Cipla (2.18 pc), Bharti Airtel (2.12 pc), Wipro (1.99 pc), SBI (1.78 pc), Tata Power (1.61 pc), ICICI Bank (1.56 pc) and TCS (1.14 pc).
However, HUL declined by 1.72 per cent, Tata Motors (1.44 pc), Bajaj Auto (1.13 pc) and Maruti Suzuki (0.93 pc).
"Indian stock markets are pricing in positive future developments," said Daljeet Kohli, Head of Research, IndiaNivesh Securities.
Among sectoral indices, the BSE-Metal firmed up by 2.07 per cent, BSE-Power by 1.77 per cent, BSE-PSU by 1.70 per cent, Bankex by 1.46 per cent, BSE-CD by 1.40 per cent and BSE-Oil & Gas by 1.08 per cent.
"If government is able to push through some of the important reform initiatives, markets will gain further, especially beaten down sectors like infrastructure, capital goods, public sector banks," said Dipen Shah, Head of Private Client Group Research, Kotak Securities.
Total market breadth was positive as 1,687 stocks closed with gains while 1,286 settled with losses. Total turnover dropped to Rs 2,965.40 crore from Rs 3,341.97 crore yesterday.