The 30-share Sensex ended up 150 points at 25,760 and the Nifty ended 44 higher at 7,807.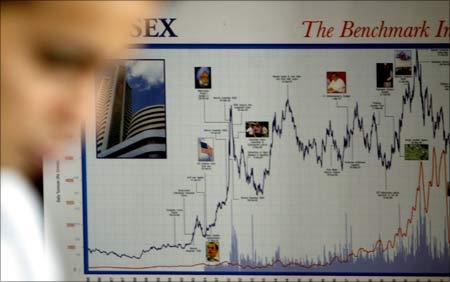 After a weak start benchmark share indices staged a recovery to end higher on Monday on value buying at lower levels. Markets had recorded losses in the previous three weeks weighed down by sluggish earnings and sales by foreign funds.
The 30-share Sensex ended up 150 points at 25,760 and the Nifty ended 44 higher at 7,807.
In the broader market, BSE Midcap and Smallcap indices ended up 0.2-0.5% each.
Market breadth ended positive with 1,376 gainers and 1256 losers on the BSE.
"The WPI figures were more or less in line with street expectations. However, food inflation which increased is a concern. While the WPI remains negative the CPI has started inching up. We believe that the central bank will stay on course in terms of providing further relief on rates with 25 basis points cut by the end of the current fiscal," said Tirthankar Patnaik, India Strategist, Mizuho Bank.
India's Wholesale Price Index (WPI) inflation contracted for the 12th straight month in October 2015 to a negative -3.81% annually as compared to -4.54 per cent in September 2015, government data showed on Monday.
GLOBAL MARKETS
Asian and European stocks weakened after investors pressed sales in equities after the terror attacks in Paris. Further, the Japanese economy slipped into recession after government data today showed that July-September GDP contracted 0.8%.
The benchmark Nikkei ended down 1% while China's Shanghai Composite gained 0.7%.
Among others in the region, Straits Times and Hang Seng ended down 0.3-1.8% each. The European stocks pared early losses post the terror attacks in Paris and were trading flat with positive bias.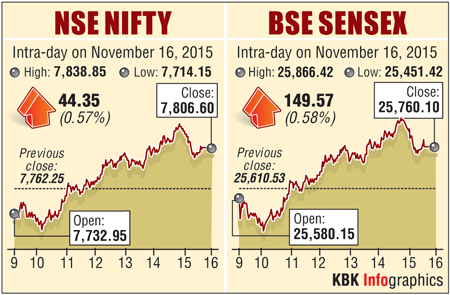 Among the major stock indices in the region CAC-40, DAX and FTSE are up 0.1-0.3% each.
SECTORS & STOCKS
Sectorally, BSE Bankex was the top gainer up 1.5% followed by Capital Goods index among others while BSE IT index ended down 1%.
From the financial sector, ICICI Bank, SBI, Kotak Mahindra Bank and HDFC Bank ended up 0.7-3.2% each.
Finance Minister Arun Jaitley will meet heads of PSU banks on November 23 to discuss various issues, including bad loans and credit flow to productive sectors of the economy.
In the capital goods space, L&T and BHEL ended up 0.2-1.9% each. Bharti Airtel ended up 0.6%.
The telecom major is planning to issue sterling bonds of up to £500 million (Rs 5,000 crore), which will be listed on the London Stock Exchange.
Tata Steel ended up 3.4%. The steel major plans to sell its plant in northern England to give it the "best chance of survival" as the UK industry has been struggling under a flood of cheap steel being pumped in from China, which has depressed prices. In the oil and gas space, RIL ended up 0.3% while ONGC firmed up 0.6% following gains in global crude oil prices.
Oil Marketing Companies (OMCs) have raised the prices of petrol by 36 paise per liter and diesel rates by 87 paise per liter in order to align the domestic petroleum product prices with global benchmarks.
While BPCL and IOC ended down 0.8-1.3% each HPCL ended up 1.6%. Coal India ended down 1.9%.
The government-owned near-monopolist in the sector, is to build 15 washeries across its various subsidiaries, through private companies under a build and operate model.
IT exporters TCS and Infosys ended down 0.9-1.8%. US lawmakers are seeking to reform the country's popular H-1B visa programme.
They are are seeking to modify wage requirements with an aim to check abuse of the system.
The bill has provisions to prohibit companies from hiring H-1B employees if they employ more than 50 people and more than 50 per cent of their employees are H-1B and L-1 visa holders. Among other shares, S.H. Kelkar and Company which made its debut on the bourses today ended up 15% at Rs 207 on the BSE.
The company listed at Rs 222 on the Bombay Stock Exchange after hittting a high/low of Rs 223/Rs 200.
The company has fixed the issue price at Rs 180 per share, the upper end of the price band.
The price band for the IPO was fixed at Rs 173-180 per share. Kaveri Seed Company ended down 10%, after hitting 52-week low on the BSE, after the company reported a consolidated net loss of Rs 47.52 crore for the quarter ended September 30, 2015 (Q2), due to fall in operational income.