Market volatility also subsided on hopes that the escalating tensions in Ukraine have started to recede. India VIX, a measure of traders' perception of near-term market risks, which had surged 7.8% yesterday ended down 5.7% at 14.41.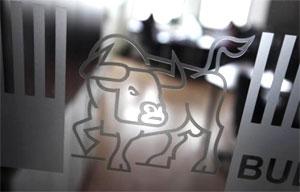 The 30-share Sensex ended up 263 points at 21,210 and the 50-share Nifty ended up 77 points at 6,298.

The Bank Nifty gained 2.6% to end above the 200-day Exponentail Moving Average at 10,929. The 200-EMA stood at 10,918.

In the broader market, the BSE Mid-cap and Small-cap indices ended up 1-1.3% each.

Market breadth was positive with 1,628 gainers and 1,089 losers on the BSE.
Rupee
The rupee firmed up against the US dollar and was trading at 61.97 versus Monday's close of 62.04, tracking gains in domestic equity markets.

Dealers say the USD/INR pair may move up as it has been unable to break a support of 61.80 on the downside.

Global Markets

Asian shares also firmed up hopes of a possible peaceful solution in Ukraine. Asian markets except for China which had slumped yesterday were trading higher. Japan's benchmark Nikkei ended up on value buying after recent correction. The index ended up 0.5% while Straits Times and Hang Seng ended up 0.6-0.7% higher. However, Shanghai COmposite which had gained yesterday witnessed profit taking at higher levels and ended down 0.2%.

Shares in Europe also traded higher on hopes that geopolitical tensions in Ukraine may subside going forward. The CAC-40, DAX and FTSE were up over 1% each.

Meanwhile, global oil and gold prices also eased around 1% after tensions in Ukraine were seen subsiding.

Sectors and Stocks

BSE Metal index was the top sectoral gainer on the BSE up 2.5% followed by Bankex, Capital Goods, Power, Oil and Gas indices among others.

Banks were among the top gainers with ICICI Bank, Axis Bank, HDFC Bank, HDFC and SBI ended up 0.7-3.8% each.

In the capital goods space BHEL was up nearly 3% after Life Insurance Corporation has bought shares worth Rs 1,889 crore, about 4.66% stake, in state-owned power equipment maker BHEL through an open market transaction. LIC has purchased 11.41 crore shares in BHEL at a price of Rs 165.55 apiece through a block deal on the BSE. L&T ended nearly 2% up.

FMCG majors ITC and Hindustan Unilever ended up 0.9-2% each while index heavyweight Reliance Ind ended up 1.4%.

Other Sensex gainers include, Sesa Sterlite, ONGC, Hindalco and Tata Motors among others.

Smart Moves

GlaxoSmithKline Pharma (GSK) ended lower by 3% at Rs 2,970, in otherwise firm market, ahead of closure of the open offer made by the Britain-based parent company to acquire additional stake in Indian arm tomorrow.

Dhanlaxmi Bank has soared 16% to end at Rs 34.65 after the board of private sector lender approved the allotment of equity shares at a price of Rs 39 per share on a preferential basis. The issue price is 31% higher than Monday's closing price of Rs 29.85 on the Bombay Stock Exchange (BSE).

Shares of HT Media soared 9% to end at Rs 82.85 on back of heavy volumes on the bourses. On February 28, Rare Enterprises, the investment arm of Rakesh Jhunjhunwala, acquired 1.5 million shares representing 0.64% stake in the media firm at a price of Rs 71.25 via bulk deal on BSE, exchange data showed. The names of the seller are not disclosed by the company.

Shares of Hindustan Construction Company surged 4.5% after the company said that its joint venture with GVPR Engineers (GVPR), has been awarded a contract for diversion of flood water from Sakleshpura (West) to Kolar / Chikkaballapur (East) under Yettinahole Diversion Project-Package-4 from Karnataka Neeravari Nigam Ltd.

Jubilant Life Sciences ended up 3% at Rs 141 after Jubilant First Trust Healthcare, a wholly owned subsidiary of the company sells its hospital business to Narayana Health.