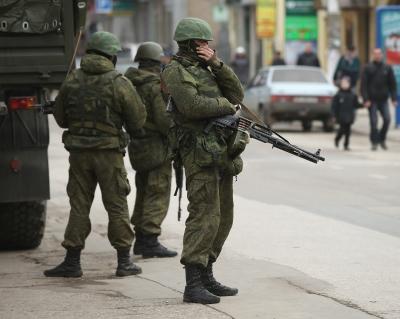 The United States has put on hold all its military-to-military engagements with Russia, attributing the move to Russia's intrusion into Ukraine.
"We have, in light of recent events in Ukraine, put on hold all military-to-military engagements between the United States and Russia," Pentagon Press Secretary Rear Admiral John Kirby said.
This includes exercises, bilateral meetings, port visits and planning conferences, Kirby said.
The defence department is closely monitoring the situation and remains in close contact with the state department and interagency, along with our allies, partners and North Atlantic Treaty Organisation, he said.
"We call on Russia to deescalate the crisis in Ukraine and for Russian forces in Crimea to return to their bases, as required under the agreements governing the Russia Black Sea Fleet," he added.
Noting that some media outlets are speculating on possible ship movements in the region, Kirby said there has been no change to our military posture in Europe or the Mediterranean.
"Our navy units continue to conduct routine, previously planned operations and exercises with allies and partners in the region," the Pentagon spokesperson said.
Meanwhile, in Brussels, the NATO secretary general announced that the North Atlantic Council would hold a meeting on Tuesday following Poland's request for Article 4 consultations.
The North Atlantic Council, which includes the ambassadors of all 28 NATO allies, will meet following a request by Poland under article 4 of NATO's founding Washington Treaty.
Under article 4 of the treaty, any ally can request consultations whenever, in the opinion of any of them, their territorial integrity, political independence or security is threatened, an official statement said.
"The developments in and around Ukraine are seen to constitute a threat to neighbouring allied countries and having direct and serious implications for the security and stability of the Euro-Atlantic area," NATO said.

Image: Heavily-armed soldiers displaying no identifying insignia maintain watch in a street as people walk past in the city centre in Simferopol, Ukraine
Photograph: Sean Gallup/Getty Images