The government's decision to stick to fiscal discipline has put pressure on the central bank to cut rates and spark investment into the economy.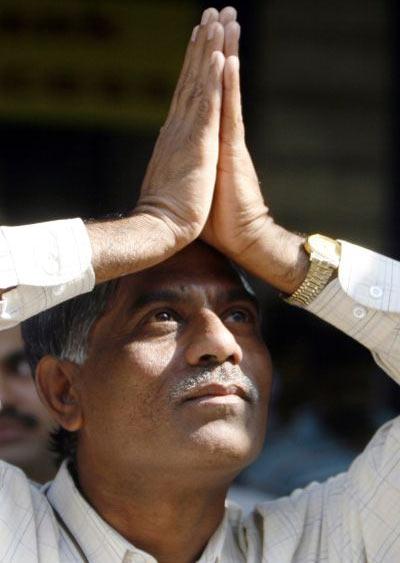 As the Union Budget 2016 seeps in, benchmark indices surged ahead with Nifty50 reclaiming 7,200 mark as clamours for an out-of-turn rate-cut in repo rate by the Reserve Bank of India grew louder.
The rally in index heavyweight ITC has boosted the sentiment across the board.
The S&P BSE Sensex ended at 23,779, up by 777 points while the Nifty50 finished at 7,222, up by 235 points.
This is the biggest single day gain in 7 years for Sensex and Nifty in absolute terms.
The government's decision to stick to fiscal discipline has put pressure on the central bank to cut rates and spark investment into the economy.
Further, Budget fine prints suggest that excise duty has been raised by 10% on cigarettes, which is in-line with street expectations of 8-10% hike while the FM said in his speech that excise duty on tobacco products is increased by 10 to 15%.
Mihir Vora, Director and Chief Investment Officer, Max Life Insurance "Against this backdrop, the finance minister did not deviate from fiscal prudence and stuck to the 3.5% fiscal deficit target. At the same time the budget also provided growth triggers.
"While FY16 budget was dominated by investments and capex narrative, this year FM has given more fillip to consumption and within that, rural consumption. This will also raise the clamor for rate cuts going forward, in our view."
He further said, "Further, he has unveiled initiatives to build confidence with tax payers with an aim to reduce litigations and reiterated his commitment to no retrospective taxation/amendments.
"That said, we believe the attention will now shift to reforms outside of budget."
Meanwhile, the uptick in global markets also buoyed the sentiment after China's central bank has further cut the reserve requirement ratio by 0.5% in an attempt to calm investor nerves.
RUPEE
On the currency front, the Indian rupee hardened for the third straight day as it appreciated by 40 paise to quote at 68.02 at 3:30 pm Indian Standard Time.
CRUDE OIL
Oil prices gained momentum as it rose over 1%, shrugging off a slump in China's manufacturing sector that stirred fears of slowing demand growth, with markets instead focusing on a fall in US and OPEC output that might tighten an otherwise bloated market.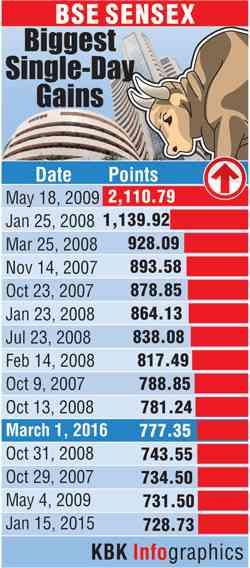 KEY STOCKS
The rally in the markets was mainly due to rate sensitives as well as FMCG shares.
Further, BSE Capital Goods as well as BSE Metal indices advanced in today's trades.
Individually, the stellar performer of the day was ITC after the government hiked the excise duty on cigarettes by 10%, which met the Street's expectations. The stock zoomed 10%.
In a major boost to the infrastructure, the budget announced a mammoth Rs 2.2lakh crore allotment to the sector. Following which, cement stocks along with capital goods shares zoomed today.
The banking and financial shares were also on a roll today with ICICI Bank, Axis Bank, SBI, HDFC Bank, Yes Bank, and PNB all escalated 1%-8% each.
Drug maker Lupin is trading 0.5% higher after its wholly-owned Japanese subsidiary, Kyowa, decided to set up a manufacturing plant at Tottori, Japan as part of expansion plans in the country.
L&T gains over 2% after the company said its construction arm won orders worth Rs 2213 crore across its various businesses.
The automobile companies started announcing their February sales numbers from today. Also, the shares rallied by up to 20% as the government's focus on rural incomes and infrastructure development is structurally positive for the sector.
Maruti Suzuki reported a marginal 0.9% year-on-year drop in total sales at 117,451 units for the month of February 2016. The company had sold a total 113,606 units in January 2016. The stock soared 8%.
Ashok Leyland climbed up 3% after posting 25% increase in total sales at 13,403 units in February.
Eicher Motors has reported an increase of 63% in total sales in February 2016 as against in the same month last year. The company sold a total of 49,156 units in February 2016 as against 30,240 units in February 2015. The stock advanced 2%.
Aurobindo Pharma has climbed nearly 2% after it received approval from the US Food and Drug Administration for acetylcysteine injection.
Among sore losers, ONGC slumped further after the government decided to change a tax called the Oil Industries Development Cess on locally produced crude oil from Rs 4,500 per tonne to a higher-than-expected 20% of the value of the commodity. ONGC slipped 1.4%.
GLOBAL MARKETS
Asian shares rose on Tuesday, boosted by China's monetary easing and downbeat manufacturing and service surveys that raised hopes of additional measures.
Nikkei 225, Hang Seng, and Shanghai Composite all ended in green between 0.4% and 1.6% each.
Following the rally in Asia and a jump in crude oil prices, European equities jumped on the bandwagon.
At 3:30 pm Indian Standard Time, DAX, CAC40, and FTSE 100 have gained between 0.5% and 1.2%.
Image: A stock trader reacts. Photograph: Reuters