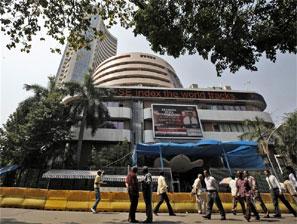 Markets closed at a record high as President Pranab Mukherjee told parliament on Monday that the new government will pursue a broad economic reform agenda focused on job creation through public and private investment that also makes containing inflation its top priority.

Also, the encouraging FII data helped aided the investor sentiment. Overseas investors bought shares worth 12.83 billion rupees on Friday, provisional exchange data shows.

At close, the Sensex was up 184 points at 25,580 and the Nifty added 71 points to end the day at 7,654. Earlier in the day, the Sensex had hit a high of 25,645.

Meanwhile, buying interest prevailed in the broader markets. The smallcap index rose over 2% and the midcap index was up 1.5%, both outperforming the BSE benchmark index which was up 0.6%.

Except Oil & Gas index which was down 0.35%, buying was visible across the sectors.

Realty index climbed 5.7% along with Capital Goods, Power, Metal, Consumer Durables and Auto indices, gained 1.7-2.5%.

Shares of real estate companies are on a roll with most of the frontline stocks trading higher by up to 17% on the bourses after President Pranab Mukherjee in his joint address to the Parliament today said that the government proposes proper housing to all citizens by 2022.

Unitech, Sobha Developers and Puravankara Projects were up between 11-17%, while DLF, HDIL, Oberoi Realty, Mahindra Lifespace Developers and Godrej Properties have gained 2-5.5%.

Oil & Gas major ONGC declined 2.4% and was the top loser among sensex-30.

HUL, SBI, Infosys, Axis Bank and M&M were the only names in red.

Among the gainers were Bajaj Auto and Coal India up over 5% each.

L&T, Tata Power, Tata Motors, Tata Steel and Gail India up 2-3.7% were some of the notable gainers.

The market breadth was positive on BSE owing to the strength in broader markets. 2,308 stocks advanced while 782 stocks declined.

Smart Moves

Nectar Lifesciences rallied 12% to Rs 32.7
on back of heavy volumes on reports that the promoters of the pharmaceutical company are planning to sell their entire stake in the company. However, the management has denied the reports.
Hindustan Zinc gained 4.4% to Rs 181 after the Finance Ministry has started the process for fresh valuation of the company, seeking to push through a long-pending sale of the government's residual stake in the company. The government holds 29.5% in Hindustan Zinc.
Motilal Oswal Financial Services surged 14% to Rs 203 on back of heavy volumes after the company announced closure of buyback offer.
Rail stocks were in demand with most of them locked in upper circuit after President Pranab Mukherjee in his address to the Joint Session of Parliament today said that the government will launch a diamond quadrilateral project of high-speed trains.
Titagarh Wagons, Kalindee Rail Nirman , Texmaco Rail and Engineering and Kernex Microsystems are frozen at maximum higher limit of the day on the BSE.
Most of these stocks have rallied between 30-70% after a victory of Narendra Modi-led Bharatiya Janata Party in the general elections.
Among the individual stocks, Texmaco Rail and Engineering has surged 10% to Rs 113, while Kernex Microsystems (Rs 76), Kalindee Rail Nirman (Rs 109) and Titagarh Wagons (Rs 298) were locked in upper circuit of 5% on the BSE.
Global Markets
World shares were within touching distance of an all-time high on Monday, spurred on by the combination of record low global interest rates and the improving health of major economies.
European markets opened on the front foot again, looking for their 10th straight week of gains after last week's bumper set of easing measures from the European Central Bank.
Asian stocks earlier touched their highest levels in nearly three years while Wall Street notched another record close on Friday following bright US jobs data.
MSCI's All-World share index, which encompasses 45 countries and is generally seen as benchmark of global stocks, was up 0.15% at 427.11 points, just below its 2007 pre-financial crisis peak of 428.63 points.