After a flat opening, markets picked up pace and closed firm mirroring strength in the global equities on value buying after the Brexit impact whitlled down.
Meanwhile, participants are keenly watching the rollovers to the next series ahead of the expiry of June F&O series due on Thursday, auto sales volume data for June and India Manufacturing PMI for June due on Friday, respectively.
The S&P BSE Sensex gained 122 points to end at 26,525 and the Nifty50 rose 33 points to close at 8,128.
Among other local factors that helped a rise on the benchmark indices were a strong rupee, jump in the crude oil prices and progress of monsoons.
Nikhil Kamath, Co-Founder & Director, Zerodha believes "Markets held up in trade Tuesday and rallied intraday to close the session close to the high point of the day.
"FII activity continues to remain tepid for the month of June with a neutral number which isn't favoring either direction, markets at the this point look more to be influenced by global cues and are not really focusing on fundamentals."
He adds, "Technically the markets are in a no trade zone with no clear cues on either direction, 7,950 as a stop with a closing basis seems to have held up for the near term.
"We would recommend staying in cash at the current juncture, we would not advise initiating new directional positions in either direction at this time."
Among other local factors that helped a rise on the benchmark indices were a strong rupee, jump in the crude oil prices and progress of monsoons.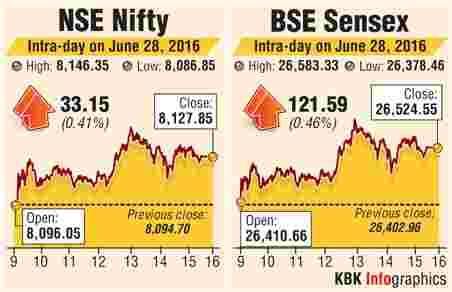 GLOBAL MARKET
After crashing for two days straight, Asian stocks bounced back as investors scooped up beaten down stocks at attractive levels. Participants absorbed the shock after Britain decided to exit the European Union.
Japan's Nikkei, China's Shanghai Composite and Singapore's Straits Times gained between 0.1%-1%.
European markets followed the tandem with FTSE 100, CAC40 and DAX up between 1.5%-2.5%.
LEADERS & LAGGARDS
FMCG shares led the rally with ITC and HUL jumping 2.4% each after media reports suggested that monsoon rains were likely to end later than usual this year.
Good monsoons help in boosting sales of FMCG products in rural areas. ITC, Hindustan Uniliver, Britannia Industries, Nestle India, United Spirits, GCPL and Tata Global Beverages gained up to 2.5%.
Meanwhile, ITC gained 2.5%. The board of directors of the company at its meeting held on May 20, 2016, had recommended the issue of bonus shares in the proportion of 1 (one) bonus share of Rs 1 each for every existing 2 (two) fully paid-up ordinary shares of Rs 1 each.
Another prominent gainer in today's trade was Maruti Suzuki up 1%. In a bid to meet strong demand for it vehicle SUV Brezza, Maruti Suzuki India is planning to roll out 10,000 units a month from July and will ramp up production for the SUV Brezza.
Gujarat Gas shares rallied 7% after the company on Monday informed bourses that it has received permission to build, operate, or expand city or local natural gas distribution network for the geographical area of Ahmedabad District.
Tata Communications surged 4% after the company informed bourses that Liquid Telecom, a pan-African telecoms group, majority owned by Econet Wireless Global, has entered into an agreement to acquire South African communications network operator Neotel.
Aditya Birla Nuvo jumped 4% after it announced the formation of a step-down subsidiary for entering into health insurance business.
Hotel Leela venture rose 4% after the company has said in a notice to BSE that it will sell 3.85 acre land in Hyderabad this year.
Shilpa Medicare gained nearly 3% after the company said its board approved merger of Navya Biologicals Pvt Ltd with itself.
Quess Corp, a Bengaluru-based staffing firm, is going to hit the capital market on Wednesday with initial public offering (IPO) of 1,29,03,226 shares of Rs 10 each in a price band Rs 310-317 per equity share.