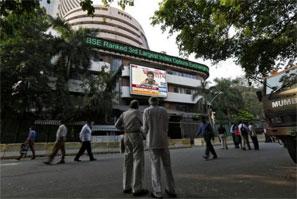 Benchmark share indices ended lower for the third straight session as investors turned cautious amid tensions in Iraq even as consumer durables shares stole the limelight tracking rally in gold prices.
The S&P BSE Sensex closed 96 points down at 25,105.51 while the CNX Nifty ended 29 points down at 7,511.45.
The broader markets also ended red as the BSE Mid-cap index shed 0.3% while the BSE Small-cap index underperformed and ended 0.66% lower.
Meanwhile, the market breadth at the BSE ended weak as 1,665 scrips declined and 1,304 scrips advanced.
Foreign portfolio investors (FPIs) sold shares worth a net Rs 420.51 crore on Thursday, as per provisional data from the stock exchanges
EXPERT SPEAK
Chandan Taparia, Derivative Analyst, Anand Rathi Financial Services says, "Nifty future has rallied by around 6% from 7,235 to 7,700 levels in the June series but failed to cross and hold above 7,700 levels and now hovering near to 7,550 levels with series gain of around 4%. We have mentioned the support at around 7,522-7,500 zone in last talk show and that level is still working well from last six trading sessions. If it fails to hold 7,520-7.500 zone then only immediate consolidation move may turn into selling mode and in that case Nifty may drift down towards 7,400-7,350 levels. On upside it has immediate hurdle at around 7,620 and major resistance zone at 7,700 levels".
IRAQ CRISES
Sunni radicals in Iraq, who have overrun a swathe of territory north of Baghdad in a lightning offensive, have taken control of one of Saddam Hussein's former chemical weapons factories, a US official has said.
Meanwhile, moving cautiously in the face of an onslaught by Sunni militants advancing on Baghdad, US President Barack Obama is sending 300 military advisers to Iraq, but US would not be returning to a combat role there.
CRUDE
Brent crude held near $115 a barrel on Friday, close to a nine-month high, and was headed for its second weekly gain on increased risks of disruption to supply from Iraq.
RUPEE
The rupee was weaker at 60.2900/2950 versus its previous close of 60.08/09, tracking high global crude prices as crisis in Iraq continues.
ASIAN MARKETS
Japanese shares were flat on Friday as investors booked profits after their rally to 4-1/2-month highs the previous day, but the mood remained upbeat with trade volume hitting its best level in three months.
The Nikkei was down 0.1% at 15,349.42 but up 1.7 percent on the week, the fifth straight week of gains and a whisker below a four-and-half month high of 15,361.16 hit on Thursday, supported by hopes of loose U.S. monetary policy.
The broader Topix was also flat at 1,268.92 but trade volume shot up to 2.95 billion shares, 47% above the average in the past 60 sessions. The new JPX-Nikkei Index 400 stood little changed at 11,546.39.
SECTORAL INDICES
BSE Consumer Durables index outperformed all major benchmark indices and surged over 3%.
Realty and FMCG were other gainers; it gained 0.91% and 0.15% respectively.
While the BSE Auto index has shed over 1%.
Other sectors such as Bankex, Capital Goods, Healthcare, Power, and Metal ended negative, all down between 0.3% to 1%.
BUZZING STOCKS
M&M was the biggest loser among the 30-share Sensex pack as the scrip ended down over 2.5% on concerns that weak monsoon could hurt tractor sales which account for nearly 33% of the company's revenues.
Other losers were: Tata Power (2.7%), Hindaclo (2.18), Sun Pharma (2%) and Sesa Sterlite (1.8%).
While Axis Bank was the top gainer as the scrip edged up by 1.33% followed by Bajaj Auto, TCS. Bharti Airtel, Infosys, all gained between 0.1% to 0.7%.
IFCI closed higher by 4% to Rs 39.80 after the state-owned financial institution said that it is planning to sell its partial stake in the National Stock Exchange (NSE) and entire stake in financial services arm.
Granules India ended higher by 3% to Rs 450, extending its past four days rally on BSE, after the company said that its paracetamol facility at Bonthapally in Andhra Pradesh has passed an inspection by the US health regulator.
Rajesh Exports, Gitanjali Gems, Tara Jewels, C Mahendra Exports, Shrenuj & Co, TBZ, Shree Ganesh Jewellery House, Titan Company and Renaissance Jewellery shot up between 3-18% on the bourses.
Orchid Chemicals and Pharmaceuticals surged 3.6% to Rs 74 on BSE after the company said it has received US Food and Drug Administration (US FDA) approval for Eszopiclone tablets.
Atul Auto closed higher by over 8% to Rs 500 after the company said it board will consider sub-division of equity shares of the company of face value of Rs 10 each into a lower denomination.
Shares of Deepak Nitrite rallied 7% to end at Rs 97 in otherwise subdued market on the BSE. The stock of commodity chemicals manufacture had turned ex-bonus and stock split today.
Shares of Natco Pharma soared 10% to end at Rs 1,131 extending its past two week rally on BSE, on back of heavy volumes.
ICRA surged 11% to Rs 2,632 , also its record high on NSE, after Moody's Corporation, the promoter of the company, said that it has secured a majority equity ownership stake in credit rating agency to over 50%.