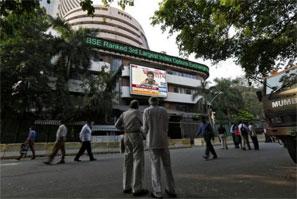 Markets ended marginally lower, amid a volatile trading session on Thursday, as investors booked profits in shares of oil explorers amid concerns over gas pricing.

India's concern for crude rose amid media reports of attacks on NATO fuel trucks on the Afghanistan-Pakistan border.

The S&P BSE Sensex ended at 25,201.80 down by 44.45 points or 0.18% after hitting a high of 25,425 and low of 25,069 and the CNX Nifty ended 7,540.70 down by 17.50 points or 0.23% after hitting a high of 7,606 and low of 7,502.

The broader markets also ended lower in line with the benchmark indices as the BSE Mid-cap and Small-cap indices was down between 0.3%-0.4%

Market breath at the BSE was marginally negative, with 1589 declines and 1403 advances.

As per provisional data from the stock exchanges, foreign portfolio investors (FPIs) bought shares worth a net Rs 366.18 crore on Wednesday, 18 June 2014.

HIGHLIGHTS FROM SEBI MEET:

To encourage more promoters to tap the IPO market, Sebi has relaxed the minimum dilution criteria. Companies can now sell a minimum 25% stake or Rs 400 crore, whichever is more, in public offerings.

Another major decision taken by the Sebi board, which met today in Delhi, was to extend the 25% minimum public shareholding requirement to state-owned companies.

The capital market regulator has also extended the ambit of the popular offer for sale (OFS) mechanism for share sales.

Sebi has also extended the ambit of the popular offer for sale (OFS) mechanism for share sales.

Also, going ahead all research analysts will have to register with Sebi before they can make stock recommendations

RUPEE:

The rupee is stronger at 59.98/99 versus its previous close of 60.39/40 after the US Federal Reserve signalled that interest rates will stay low for a while yet.

Traders said demand for dollars from oil marketing companies likely to keep the pair supported.

GLOBAL FRONT:

Asian markets pared early gains and were trading lower with the exception of Nikkei which gained nearly 2%.

Japan's benchmark index, the Nikkei ended over 4-month high up 1.6% at 15,361.

Shares in China also witnessed selling pressure and the Shanghai Composite was down 1.6%
while Hang Seng and Straits Times were trading with marginal losses.
European shares were trading higher after positive comments from the US Fed about the US economy.
The CAC, DAX and FTSE were up 0.7% each.
SECTORAL INIDCES:
BSE Oil & Gas index tumbled over 3% on media reports that the government may allow the higher gas price only for incremental production over and above the current levels.
Other counters that edged lower are: Bankex, Capital Goods, and Power, all down nearly 1%.
However, BSE IT index was the top gainer ( up 1.8%) as the sector cheered Fed's positive outlook on the US economy .
Consumer Durables index gained 1.3% followed by Health care (0.55%), Auto (0.32%) and FMCG (0.17%)
BUZZING STOCKS:
TCS (2.23%) was the top gainer among the Sensex's 30-share Pact while ONGC (5.13%) was the top loser.
Other gainers are Infosys which slumped 2.9% followed by M&M (1.4%), Wipro (1.25%) and Sun Pharma (1.09%).
On the other hand, losers are Maruti Suzuki, RIL, Coal India, Gail, all slipped between 3-1%.
PSU shares was in focus today as Sebi said that the government will be given a three year time frame to achieve 25% minimum public shareholding (MPS
HMT, Hindustan Copper, MMTC, STC India, SJVN, ITI and RCF are traded higher in the range of 1-6%, erasing entire intra-day losses, on the BSE.
However, SAIL was down over between 3%.
Moreover, Oil India, HPCL, Bharat Petroleum, Indian Oil and Reliance Industries are down between 2-7% on the BSE.
Shares in United Spirits dipped almost 8% to Rs 2,289 as lenders to the UB-Group owned Kingfisher Airlines have invoked shares of United Spirits that were pledged as collateral.
Shares in Punj Lloyd surged 3% to Rs 57.45, extending its previous day's 16% rally, after institutional investors bought over 2 million equity shares for Rs 11.5 crore through open market transaction.
Rail stocks were in limelight and traded higher by up to 5% after Nirmala Sitharaman, commerce and industry minister said that the country needs FDI for expansion of railway network.
Titagarh Wagons, Kalindee Rail Nirman, Kernex Microsystems and Texmaco Rail and Engineering rallied 3-5% on the BSE.