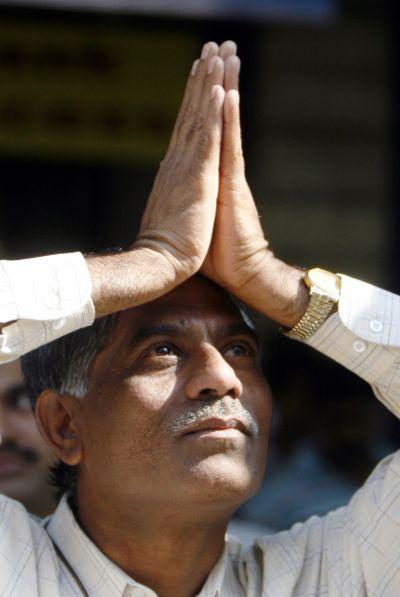 Benchmark shares indices rose over 1% on Thursday to end higher for the fifth straight session, after the US Fed, which kept interest rate steady and also indicated that rate hikes would be gradual, eased concerns over slowdown in foreign fund inflows.
The stronger finished was also aided by index heavyweight Reliance Industries, which rose over 5.41% on the BSE.
Further, the progress in monsoons and favourable macroeconomic data also boosted traders' sentiment.
The barometer index S&P BSE Sensex ended at 27,115 levels, up 284 points or 1.06 % while the 50-share CNX Nifty ended 83 points or 1.03% up at 8,174 levels. In the broader markets, BSE Midcap index ended 0.8% up and Smallcap index gained 1.07%.
The health of the market was extremely strong with 1,632 shares advanced against 1,100 shares declined on the BSE.
Expert view
"In the short term, Fed's statement provides some respite to the markets, which is reflected in a bounce back today in the Indian equity benchmarks, Indian rupee and softening in Gsec yields. We expect the markets to remain volatile as we maintain the base of Fed rate lift off later in the year, which will have implications for portfolio flows into EMs, including India," said Dhananjay Sinha, Head of Research, Economist & Strategist, Emkay Global Financial Services in a note.
"India's vulnerability arises from the implications of potential INR depreciation and spill over effect on the enlarged debt exposures of FIIs. Retrenchment of FII flows from fixed income markets can induce yield curve inversion, in our view. So we expect RBI to remain agile to these risks," he adds.
Rupee
The Indian Rupee is trading firm on the back of continues selling of the American dollar by banks and exporters.
Also, the weakening of the greenback against other overseas currencies after the Fed disappointment has also strengthened the local currency.
At closing, rupee was quoting at 63.78, strengthening by 32 paise.
Sectors and stocks
Barring BSE Metal and Realty indices, all the sectoral indices finished stronger led by a steller rally in BSE Oil & Gas index, which ended higher by 2.3% followed by BSE Consumer Durables, BSE Auto and BSE Healthcare indices, finishing higher between 1.3- 2% each.
Reliance Industries accelerated more than 5% on the Sensex.
The company has extended its gain for the fourth consecutive day post its AGM, adding more nearly 9% on the Sensex.
The company expects that Reliance Jio and its plans to relaunch retail fuel pumps will place Reliance in a select group of most valuable companies in the world. HDFC Bank finished higher by 1.2% on the Sensex after the bank decided to slash base rate by 0.15%, which will lower EMIs for borrowers.
SBI is targeting 12% growth in credit in the state this fiscal, banking on a turnaround in the mining sector, which it expects to happen by the third quarter.
The stock ended up by 1.2% on Sensex. Foreign broking house has maintained its position on Tata Motors on the hopes of increase in Jaguar Land Rover sales.
The stock reacted sharply and ended 2.55% up. ONCG Videsh (OVL), the foreign subsidiary of Oil and Natural Gas Corporation (ONGC), has announced that it will start up the drilling activities in Kazakhstan from next month. The company plans to invest $400 million in this project.
Shares of ONGC finished higher at 2.6 % ICICI Bank finished nearly 1 % up after a foreign brokerage maintained its buy call on the share and trusted the bank to grow robustly over FY 2015-18
The ongoing conflict between the trade unions and Tata Steel UK has been suspended until Saturday so that a new offer on pensions can be considered.
Tata Steel has dipped 0.5% on the Sensex. Maruti Suzuki gained 1.82% on the back of a signed deal with Malaysian carmaker Proton for the assembly and sale of an entry-level model in its domestic market. Bharti Airtel announced that the signed agreement with with Helios Towers Africa (HTA) for sale of tower assets in Tanzania and Tchad has been called off.
However, the stock has gained 1.37% on the Sensex.
On the losing side, Cipla dropped nearly 1% on reports that Cipla business head Sameer Goel has resigned from his post. Coal India was another loser, which dipped nearly 1% on the Sensex.
Global markets
European markets are trading lower on the uncertainty over Greece default. Euro finance ministers' would be meeting later in the day, which will dictate the trend in European markets.
Nikkei share average slid to a one-month low on Thursday, dipping below the 20,000-mark for the first time since mid-May, as the yen strengthened after the U.S. Federal Reserve signalled it will hike interest rates at a slower pace than expected.
Hong Kong stocks ended Thursday lower, with investors' risk appetites subdued by a possible Greek default and increasing volatility in the mainland's equity market.
China stocks tumbled on Thursday, led by banking heavyweights, as 11 companies launched IPOs, putting pressure on market liquidity.