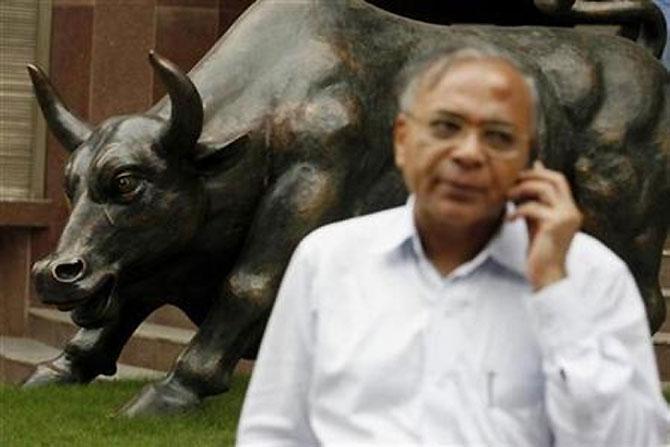 Markets finished near 2-1/2 month closing high led by a stupendous rally in financials after RBI Governor Raghuram Rajan stated that there is a revival in growth of the economy and pick up in the investment.
He also said that India's exposure to Greece is limited which fueled the rally.
The Sensex surged 147 points to end at 28,093 highest and the Nifty climbed 40 points to end at 8,485.
In the broader markets, BSE Midcap and Smallcap indices ended flat. Market breadth ended positive with 1,526 gainers and 1,454 losers on the BSE.
A weak US jobs data further boosted the sentiments signaling a delay in the interest rate hike by the Federal Reserve.
US employers added 223,000 jobs in June, Labor Department figures showed Thursday, following a 254,000 increase in May that was less than previously reported.
However, the metal pack lost sheen in today's trade on slowdown in the Chinese economy with Shanghai Composite closing 6% lower as Beijing's several stimulus measures failed to garner the investor's confidence.
MARKET VIEW
"Even though the weekly gains for the index aren't significant, but traders would take a closing almost the high point of the day and closer to 8500 levels with both hands.
A recovery of almost 300 points, especially at a time where global uncertainty including Greece and China are looming large on the markets" said Kunal Bothra, Head – Advisory, LKP Securities.
"We believe, that if the Greece event on Sunday passes out without any severe negativity, then the markets could be due for a strong pickup once again heading towards 8700 mark on Nifty.
"However, as a support, we believe 8320 and 8200 could act as strong weekly and monthly supports for Nifty, respectively" he added.
RUPEE
The Indian rupee on Friday strengthened for the fourth consecutive day to quote at 63.47 as the US dollar weakened overnight because of slower growth in non-farm payrolls data.
Meanwhile, strength in the local equities boosted the sentiments.
GLOBAL DEVELOPMENT
Meanwhile, all eyes would be in Greece on Sunday ahead of the voting on referendum, which could provide some clarity on whether the cash strapped nation would be a part of European Union or not.
In related views, the International Monetary Fund warned in the preliminary draft of its latest debt sustainability report that Greece would need an extension of its European Union loans and a large debt write-off if it grows more slowly than expected and economic reforms are not implemented.
STOCK TRENDS
On the sectoral front, BSE Bankex, Healthcare, Capital Goods and Consumer Durables ended higher between 0.5-0.8%. However, BSE Realty, Auto and Metal indices lost up to 1.5%.
Engineering major L&T gained 0.6% after the company said it has won orders worth Rs 1,885 crore. BHEL was up nearly 2%.
Lupin climbed nearly 2% after announcing the acquisition of a 100% equity stake in ZAO 'Biocom' in Russia.
Sun Pharma, Cipla and Dr Reddy's Labs were up 1% each.
Tata Motors shed 0.6% on weak JLR sales during the month of June. JLR sales in June 2015 declined to 150 units compared to 375 units in June 2014, the company said in a release.
Bajaj Auto continued to rally and was up 0.8% after posting an 8% increase in total sales in June at 3,31,317 units against 3,05,465 units in the same month of 2014.
Bharti Airtel raked in over $1.3 billion (Rs 8,243 crore approx) by divesting its tower assets in five African countries. The proceeds will be used to reduce debt. The stock is up 0.4%.
Select IT stocks ended under pressure after Cognizant Technology Solutions is likely to witness an incremental loss of $100 million in the second half of the calendar year 2015.
Wipro,Mphasis, Zensar Tech, Financial Tech, Hexaware Tech, Mastek lost between 1-5%.
Metal pack reeled under pressure on slowdown in the Chinese economy. Vedanta, Coal India, Tata Steel and Hindalco lost between 0.5-2%.