Investors are awaiting the policy decision from the US Federal Reserve. Markets are expecting a signal from the Fed on whether to expect a rate hike in September or not.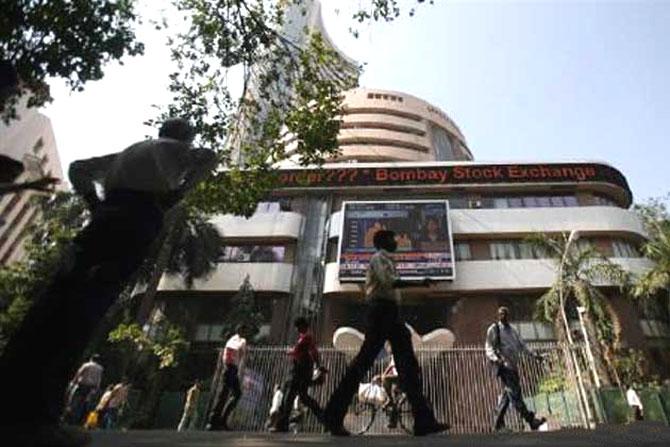 Markets snapped a four-day losing streak to end higher on Wednesday led by gains in IT shares while upside gains remained capped on caution ahead of the expiry of July derivative contracts tomorrow and outcome of the two-day US Fed meet which ends later today.
The 30-share Sensex ended up 104 points at 27,563 and the 50-share Nifty ended up 38 points at 8,375. In the broader market, the BSE Mid-cap index ended up 0.9% and the Small-cap index gained 0.8%.
Market breadth ended strong with 1,653 gainers and 1,183 losers on the BSE.
The Indian rupee was trading marginally higher against the US dollar at 63.84 against the previous close of 63.91 tracking gains in domestic equities.
Meanwhile, foreign institutional investors continued to remain sellers after they sold equities worth RS 1,376 crore on Tuesday.
SECTORS & STOCKS
BSE Capital Goods index was the top gainer up 1.9% followed by IT and Auto indices.
BSE Consumer Durables was the top loser down 1.9% followed by FMCG, Oil & Gas indices.
According to reports, top three Indian IT majors, TCS, Wipro and Infosys together added 12,187 employees in the June quarter.
This is a nearly 68% net increase over the same quarter last year. Wipro and Infosys ended up 1.4-2% each.
However, TCS ended flat with negative bias. L&T ended up 1.8% ahead of its April-June earnings tomorrow.
BHEL was up 2.4%.
HDFC gained 1.2% after the mortgage lender's loan book jumped 13.6% to Rs 2,31,224 crore at the end of June quarter compared to Rs 2,03,384 crore a year ago.
Other Sensex gainers which gained include, ICICI Bank, Tata Motors, Maruti Suzuki, Lupin and Sun Pharma among others. Airline shares ended higher on hopes that oil marketing companies may lower aviation turbine fuel prices in the wake of falling global crude oil prices.
Jet Airways gained 19% while SpiceJet ended up 2.4%. Shares of public sector (PSU) banks slipped to their fresh 52-week lows on the bourses after reporting a weak set of numbers for April-June (Q1FY16) quarter. Canara Bank, SBI, Andhra Bank, Union Bank, Bank of India and PNB ended down 1.8-3.2% each.
Metal shares gained after commodity prices firmed up and rebound in the China shares. Tata Steel and Hindalco ended up between 0.5-0.9%.
Vedanta ended up 1.7% after the company reported a net profit of Rs 610 crore for April-June compared with Rs 170 crore for the same quarter last fiscal.
Tata Motors ended up 1.6% on value buying at lower levels after the sharp correction in the previous sessions.
Maruti Suzuki ended up 1.8% after it reported a 56% rise, year-on-year, in its net profit in the June quarter while net sales rose 18% to Rs 13,078 crore.
ITC ended down 2.4% ahead of its April-June quarter (Q1) results tomorrow.
Other Sensex losers include, Reliance, Dr Reddy's Labs and HUL among others. Among other shares, Dalmia Bharat surged 11% after the company reported consolidated net profit of Rs 42 crore for the quarter ended June 2015 (Q1), supported by an increase in sales volume and realization.
Godrej Consumer Products gained 4% after the company reported a strong 39% year-on-year (YoY) growth in consolidated net profit at Rs 199 crore for the quarter ended June 30, 2015 (Q1FY16).
Glenmark Pharmaceuticals ended down 4.5% on reports that the US court has rejected the drug firm's patent plea for Finacea.