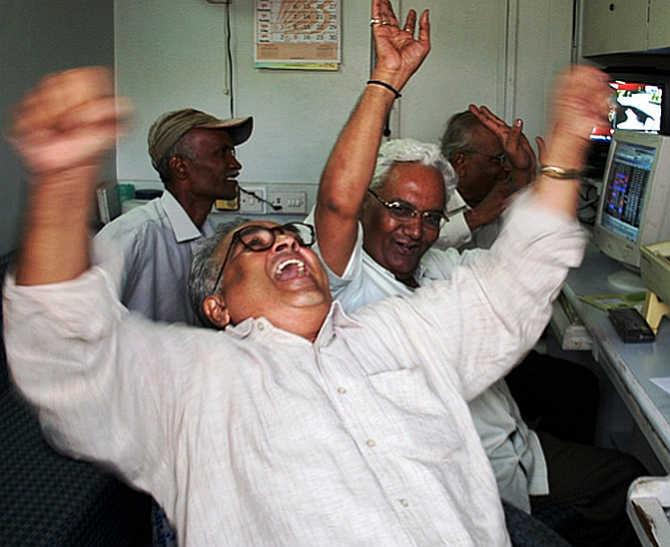 Benchmark share indices firmed up in late trades to end near their day's highs with the Sensex closing above 26,000 for the second time amid a rally in telecom shares and renewed buying interest in Reliance Industries and HDFC Group shares.
Foreign institutional investors which have remained net buyers in the previous four sessions also aided sentiment.
The 30-share Sensex ended up 311 points at 26,026 after hitting an intra-day high of 26,050 and the 50-share Nifty gained 84 points to close at 7,768 after touching a high of 7,774.
Foreign Institutional Investors remained buyers for the fourth straight session till Monday with net equity purchases of Rs 3,270 crore (Rs 32.70 billion), according to stock exchange.
The Indian rupee was trading higher at Rs 60.18 against the previous close of Rs 60.30 tracking weakness in the US dollar against Asian currencies while inflows by foreign funds in equities also boosted sentiment.
Asian markets ended higher shrugging off geopolitical tensions in Middle East and Ukraine. Shares in Japan ended higher after an extended weekend. The benchmark Nikkei ended up 0.8 per cent. Hang Seng was the top gainer in the region up 1.7 per cent and Shanghai Composite ended up 1 per cent while Straits Times ended marginally higher by 0.1 per cent.
European markets rebounded on easing tensions after pro-Russian rebels were in the process of handing over the black boxes of Malaysia Airlines flight MH17 that crashed in Ukraine last Thursday to Malaysian authorities. CAC-40, DAX and FTSE were up 0.8 per cent each.
Shares of telecom services providers such as Bharti Airtel and Idea Cellular ended higher after the telecom regulator authority of India (TRAI) recommended allowing sharing of all categories of airwaves held by operators, the move could help companies to reduce cost of mobile services.
"We believe Bharti Airtel, Vodafone and Idea are well positioned to benefit from spectrum sharing, starting with 3G spectrum sharing initially," Geojit BNP Paribas said in an update on the telecom sector.
Bharti Airtel ended nearly 5 per cent higher and RCom gained nearly 4 per cent.
India's third largest telecom operator by subscriber base, Idea ended nearly 5 per cent higher after it reported a 57 per cent jump in profit after tax at Rs 728 crore (Rs 7.28 billion) in the quarter ended June, beating analysts' estimates. The company's profit increased on the back of higher call rates and a 11.5 per cent growth in data usage. In June 2013, Idea had reported profit after tax of Rs 462.7 crore (Rs 4.62 billion).
Analysts had expected the Aditya Birla Group company, which is partly owned by Malaysia's Axiata, to report profit of Rs 600-650 crore for the April-June quarter.
Reliance Industries ended higher by 3 per cent, extending its Monday's 2 per cent gain, after reporting a better-than-expected 14 per cent year on year jump in net profit at Rs 5,957 crore (Rs 59.57 billion) for the quarter ended June 30, 2014 (Q1). Analysts, on an average, had expected profit of Rs 5,462 crore for the quarter.
HDFC Group shares were also among the top Sensex gainers. HDFC, the country's largest mortgage financier, gained nearly 3 per cent after it reported a 15 per cent growth in net profit to Rs 1,345 crore (Rs 13.45 billion) for the quarter ended June, as compared to Rs 1,173 crore (Rs 11.73 billion) during the same period of the previous year, on the back of 17 per cent net loan growth to individuals.
HDFC Bank which had witnessed a correction post its results on Monday ended 1.4 per cent higher. On Monday, the private banking major said its net profit for the quarter ended June stood at Rs 2,233 crore (Rs 22.33 billion), an annual rise of 21 per cent, the least in a decade.
This was the fourth consecutive quarter when the annual rise in HDFC Bank's quarterly profit after tax was below 30 per cent.
Sun Pharma ended 0.8 per cent higher. The pharma major, which has been awaiting various regulatory approvals for its $4-billion merger deal with Ranbaxy, has received clearance from the Bombay Stock Exchange and National Stock Exchange.
Hindalco ended 2.6 per cent higher after aluminium prices hit 16-month highs.
Other Sensex gainers include, ITC, TCS, Infosys, Wipro and Tata Motors.
Among other shares, Exide Industries surged 4.6 per cent to end at Rs 165 after reporting 16 per cent year on year (yoy) increase in net profit at Rs 185 crore (Rs 1.85 billion) for the first quarter ended June 30, 2014 (Q1), due to higher realisation. The company had posted a net profit of Rs 159 crore (Rs 1.59 billion) in the same period of previous fiscal.
Indoco Remedies zoomed 18 per cent to end at Rs 194 after the pharmaceuticals company said it has received a nod from the US Food and Drug Administration (FDA) for two of its facilities in Goa.
Thermax tanked 8.6 per cent to end at Rs 868 after the company said its consolidated net profit more-than-halved at Rs 17 crore for the quarter ended June 30, 2014 (Q1), due to lower operational income.
The company had profit of Rs 53 crore (Rs 530 million)in a year ago quarter.
Hitachi Home & Life Solutions rose 2.7 per cent to end at Rs 374 after the consumer durables company late Monday reported over 200 per cent jump in net profit for the quarter ended June 30, 2014.
The company reported a net profit of Rs 43 crore (Rs 430 million) for the June quarter, up 202 per cent compared with Rs 14 crore in the corresponding quarter ended June 30, 2013.
Ceat tanked 5.8 per cent after reporting 21 per cent year on year decline in consolidated net profit at Rs 52 crore (Rs 520 million) for the first quarter ended June 30, 2014 (Q1), due to higher expenditure.
In the broader market, the BSE Mid-cap index ended up 0.1 per cent and the Small-cap index ended flat with negative bias.
Market breadth was marginally negative with 1,491 losers and 1,470 gainers on the BSE.