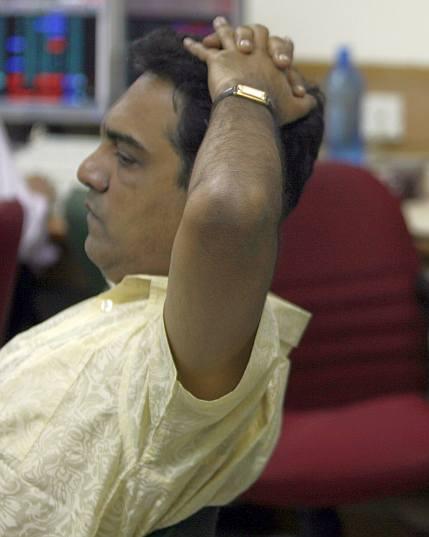 Benchmark shares indices crashed over 2%, amid a sell-off in Asia and Europe, after suspension of trading in Chinese shares post the sharp plunge in Shanghai Composite.
Further, geopolitical tensions in the Middle-East also dampened sentiment.
The S&P BSE Sensex tumbled 534 points to close at 25,627 and the Nifty50 plunged 171 points to end at 7,793.
In the broader markets, BSE Mid-cap and Small-cap indices cracked 1% each. Market breadth finished remain weak with 1,284 gainers and 1,598 losers on the BSE.
"China's PMI continues to underline its downward growth trajectory with equity markets reflecting a sub-7% GDP figure for calendar 2016 and beyond.
"India's manufacturing PMI has hitherto stayed reasonably resilient despite weak aggregate demand.
"However,a sub-50 print at the beginning of the year marks extended expectations on a recovery.
"One would hope that prudent fiscal expansion and select sector-wise recovery would bring back the PMI to expansion phase," said Tirthankar Patnaik, Chief Strategist at Mizuho Bank.
Meanwhile, Indian manufacturing activity contracted in December for the first time in more than two years on the back of softening domestic demand coupled with weak rupee dampened sentiments.
Nikkei's Manufacturing Purchasing Managers' Index, compiled by Markit, fell to a 28-month low of 49.1 in December from November's 50.3.
It was also the first reading below the 50 threshold that separates growth from contraction since October 2013.
The rupee weakened by 44 paise to quote at 66.57 against the US dollar marking its steepest fall in nine weeks mirroring losses in the local equity and Asian currencies.
Trading was suspended after weak December manufacturing data which showed contraction for the 10th consecutive month led to sharp sell-off in stocks dragging the benchmark Shanghai Composite by 7.4%.
The heavy-sell off in Chinese stocks triggered a new system meant to limit volatility.
The measures were introduced in early December after the stock market's steep fall over the summer.
Among other markets in the region, Japan's Nikkei, Hong Kong's Hang Seng and Singapore's Straits Times fell between 1-4%.
Growing tension between Saudi Arabia and Iran allowed oil prices to soar in the first trading session of 2016, indicating the manner in which the unstable political situation in the Middle East could complicate the outlook for oil prices in 2016.
"We believe our markets gave a knee jerk reaction and Nifty50 will settle down by testing 7,500 levels.
"Indian fundamentals are far more resilient which will eventually get captured in the market prices, although in short term the market is carried away by fear factors but in the long term there is tremendous value in Indian stocks.
"The Nifty50 ended the day 2% lower with 46 out of the 50 Nifty stocks ending in red," said Jimeet Modi, CEO, SAMCO Securities.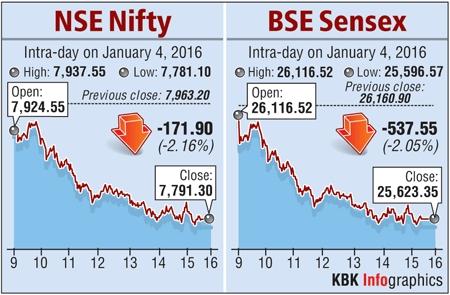 STOCKS & SECTORS
A broad-based sell-off was witnessed across all the sectors with BSE Bankex and Telecom indices leading the fall down between 2.5%-3.5%.
Banks which are a proxy to the economy were the top losers amid weak December manufacturing PMI.
ICICI Bank, HDFC Bank, Axis Bank and SBI were down 1.5%-3% each. Meanwhile, IDBI Bank, Bank of Baroda, Punjab National Bank (PNB), Oriental Bank of Commerce, Syndicate Bank, Allahabad Bank and Union Bank of India from the public sector undertakings (PSUs) were down over 3%.
Meanwhile, telecom stocks got hit post the order from the Telecom Regulatory Authority of India (Trai) that has written to operators to ensure compliance with call drop regulations, effective January 1.
However, service providers remain defiant and say compensation to subscribers will be paid only after court orders them to do so.
Bharti Airtel, Reliance Communication, Idea Cellular dropped between 4%-7% each.
Another sector which faced selling pressure was the Auto pack post the December sales numbers. Among individual names, Tata Motors fell 6% on recording a 4% decline in sales at 39,973 units for December as against 41,734 vehicles in December 2014.
Further, Hero MotoCorp dipped 1.5% after the total two-wheeler sales declined 5.13% to 4.99 lakh units in December 2015 over December 2014.
Bajaj Auto inched down 1% on posting a marginal decline in total sales in December at 2,89,003 units as against 2,89,244 units during the same month last year.
Meanwhile, metal stocks mirrored concerns in the China markets and closed lower on the back of a weak PMI data in China. Hindalco, Tata Steel and Vedanta dropped between 1%-4%.
Coal India slipped 1% as offtake for December 2015 was lower at 48.16 mt against a target of 49.46 mt.
Prominent losers of the Sensex include Adani Ports, BHEL, Lupin, RIL and GAIL down between 2%-3%.
Image: A stock trader reacts; Photograph: Arko Datta/Reuters