Muted global trend after a report that US President Donald Trump was preparing to impose more tariffs on China hurt trading sentiments.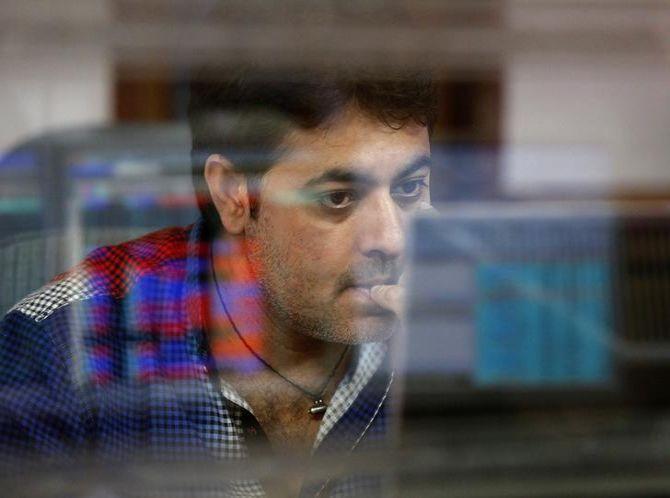 Indian equity benchmarks ended subdued for the third straight session on Friday due to weakening global sentiment but registered gains for fifth straight month, the longest monthly rally since August 2016.
On a weekly basis, both key indices Sensex and Nifty recorded their sixth straight week of gains by rising 393.27 points or 1.02 per cent, and 123.40 points or 1.07 per cent, respectively.
The 30-share Sensex fell over 45 points on Friday, extending third session of loss, as the September series derivatives contracts started on a somewhat weak note amid the rupee hitting the 71-mark for the first time ever.
The NSE Nifty, however, edged slightly higher by 3.70 points.
Muted global trend after a report that US President Donald Trump was preparing to impose more tariffs on China hurt trading sentiments.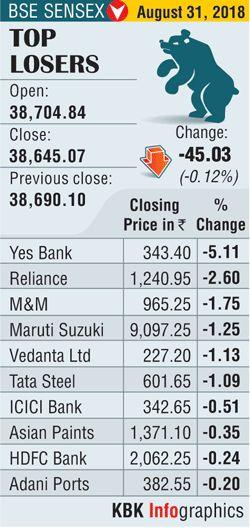 The rupee crashed to a record low of 71 per dollar intra-day, tracking weakness in almost all other Asian peers following the latest round of US-China trade tensions and robust month-end demand for the American currency from oil importers.
Further, a general caution prevailed in the market today with all eyes on GDP data for April-June.
The quarterly GDP numbers will be released after market hours on Friday.
"Nifty traded volatile and settled almost flat, tracking mixed cues... the report that the US President is planning to impose new tariffs on China not only capped upside but triggered profit taking too.
"Mostly sectoral indices traded in line with the benchmark index and closed flat," according to an analyst.
The Sensex moved in the range of 38,838.45 and 38,562.21 before settling down by 45.03 points, or 0.12 per cent, at 38,645.07.
The gauge had lost 206.53 points in the past two sessions.
The broader NSE Nifty managed to end with a small gain of 3.70 points, or 0.03 per cent, at 11,680.50. Intra-day, it shuttled between 11,727.65 and 11,640.10.
Meanwhile, domestic institutional investors (DIIs) sold shares worth a net Rs 1,598.67 crore, while foreign portfolio investors (FPIs) bought equities worth Rs 958.01 crore on Thursday, as per provisional data.
Market participants have constantly been cautious this week as the rupee continued its slide to hit its new life-time low and breached the 71-mark (intra-day) first time ever today tracking weakness in most Asian currencies against the US dollar.
Besides, global crude oil surging to $78 a barrel also put pressure.
Continuous fall in the rupee and surging global oil prices remain key dampening factors, raising renewed inflation concerns.
Shares of Yes Bank continued its slide for the fourth straight day and emerged worst performer in the Sensex pack by tumbling 5.11 per cent after the bank on Thursday said it has received RBI's approval for continuance of Rana Kapoor as MD and CEO of the company till further notice, followed by RIL at 2.60 per cent.
Other laggards were M&M 1.75 per cent, Maruti Suzuki 1.25 per cent, Vedanta Ltd 1.13 per cent, Tata Steel 1.09 per cent, ICICI Bank 0.51 per cent, Asian Paint 0.35 per cent, HDFC Bank 0.24 per cent, Adani Ports 0.20 per cent, HDFC Ltd 0.11 per cent, TCS 0.06 per cent, Axis Bank 0.05 per cent and TCS 0.02 per cent.
In contrast, stocks of Sun Pharma, Wipro and Infosys were in a better shape and rose up to 1.99 per cent as the weak rupee tempted buyers to accumulate shares of pharma and software exporters.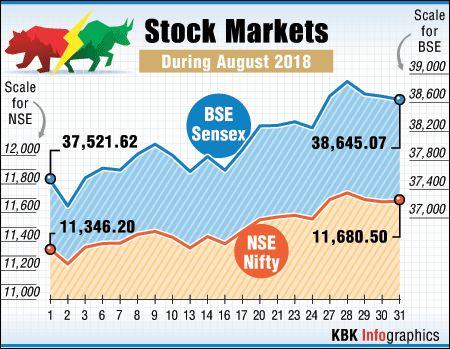 Consequently, auto-maker stocks were buyers' fancy ahead of monthly August sale numbers to be announced on Saturday.
Major gainers were Tata Motors with 2.87 per cent rise, followed by Bajaj Auto 1.65 per cent and Hero MotoCorp 0.99 per cent.
Among sectoral indices, the BSE energy index fell 1.49 per cent, followed by metal 0.63 per cent, oil and gas 0.28 per cent, bankex 0.16 per cent, auto 0.16 per cent and realty 0.02 per cent.
Bucking the trend, healthcare rose 2.18 per cent, IT 1.38 per cent, power 1.28 per cent, teck 1.11 per cent, capital goods 1.04 per cent, PSU 0.58 per cent, infrastructure 0.57 per cent, consumer durbales 0.43 per cent and FMCG 0.42 per cent.
The broader markets outperformed the key benchmarks for the second straight session, with the BSE small-cap index rising 0.55 per cent and the mid-cap gauge gaining 0.35 per cent.
International benchmark Brent crude was trading at USD 78.01 a barrel in Asian trade.
In Asia, China's Shanghai Composite Index fell 0.46 per cent, Hong Kong's Hang Seng index shed 0.98 per cent and Japan's Nikkei declined 0.02 per cent.
European indices too were trading in the negative terrain at the start of trading. Frankfurt's DAX dropped 1.02 per cent, while Paris CAC 40 shed 1.22 per cent. London's FTSE too fell 0.49 per cent.
Photograph: Shailesh Andrade/Reuters