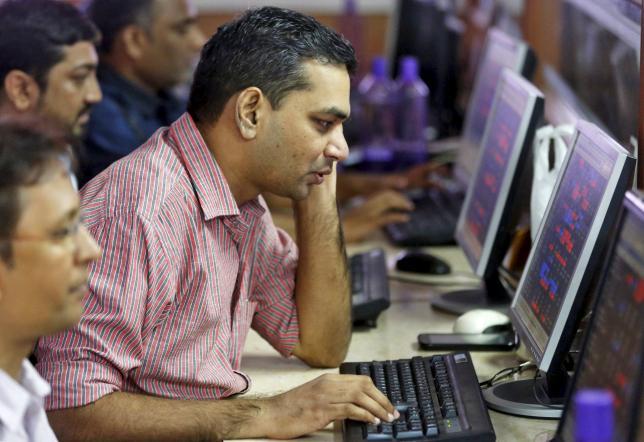 M arkets trimmed early gains to end flat on concerns that implementation of the landmark GST Bill which is seen as a game changer for the economy will be challenging and near term growth could take a backseat.
The S&P BSE Sensex ended up 17 points at 27,714 and the Nifty settled 6 points higher at 8,551.
In the broader markets, the BSE Midcap and Smallcap indices ended up 0.4% each. Market breadth ended strong with 1436 gainers and 1264 losers on the BSE.
After hours of debate the Rajya Sabha late Wednesday passed the Goods and Services Tax Constitution (Amendment) Bill.
The GST regime would be a historic economic reform, making the country a unified market.
When the GST regime comes into force, it will subsume a slew of indirect central taxes, including excise duty, service tax, countervailing duty and those of the states, such as value added tax, sales tax, luxury tax and octroi.
"We believe that implementation of the GST in the near term could bring some upturn in inflation; however, the impact should be transitory.
Tax rates under GST are likely to increase for services and decrease for goods (from current levels).
This, there could be some negative impact on growth in the near term.
However, we expect medium-term growth to be boosted, helped by better allocation of resources, plus improving efficiency of domestic production and exports. We also expect public finances to be helped over time as greater compliance and wider tax base give a boost to tax revenue collections," Morgan Stanley Investment Management said in a note.
Foreign investors were net buyers in equities worth Rs 578 crore on Wednesday, as per provisional stock exchange data.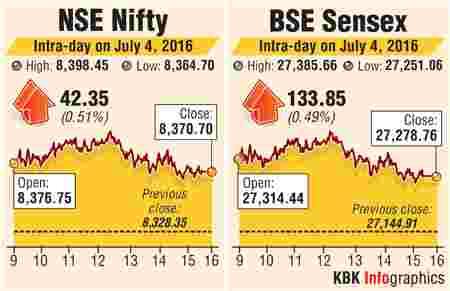 "The behavior of the markets over the past two days signify that they are a bit tired; the corporate numbers of Q1 have either been in line or disappointing. Local investors probably are aware that the beneficial impact of GST will come with a lag of a few quarters.
Local investors may also guess and estimate that the growth may take a hit on introduction of GST and inflation may see a bump up.
Further, haggling over key issues of standard rate in the GST council after the bill is approved by more than 50% of states may create its own uncertainty," HDFC Securities said in a note.
Auto companies were among the top gainers as the industry is likely to benefit the most from the GST Bill with vehicles getting cheaper because of a lower tax rate.
Tata Motors, Hero MotoCorp, Maruti Suzuki and Bajaj Auto ended up 0.5%-4.2% each.
Financials were among the top losers amid economic growth worries in the near term.
ICICI Bank was the top loser down over 1.2% followed by HDFC Bank, HDFC, SBI and Axis Bank.
Logistics companies which are also among the major beneficiaries of the GST Bill ended mixed after sharp gains in the previous sessions. Blue Dart rose 1%, Container Corporation eased over 3%, Allcargo Logistics ended down over 3% while Snowman Logistics dropped nearly 7%.
Among others, Ramco Systems slumped 16% after the company reported a sharp 69% year-on-year (YoY) decline in consolidated net profit at Rs 90 lakh for the quarter ended June 30, 2016 (Q1FY17).
Hawkins Cookers surged nearly 6% after the company reported a strong 95% year-on-year (YoY) increase in net profit at Rs 9.86 crore for the quarter ended June 30, 2016 (Q1FY17), on back of healthy operational performance.
Gulf Oil Lubricants India jumped over 8% after the company reported 52.2% year on year jump in net profit at Rs 31.16 crore for the quarter ended June 30, 2016 (Q1FY17), on the back of higher volume growth.
Image: Stock traders in Mumbai. Photograph: Reuters