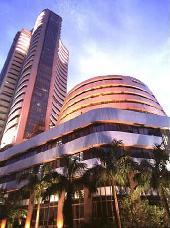 Markets ended Monday's rangebound session on a flat note weighed down by profit taking in index heavyweights such as Reliance Industries, TCS and ICICI Bank.

The Sensex ended down by 14 points to close at 19,410 and the 50-share Nifty advanced 1 point to end at 5,909.

The Asian markets ended on a positive note and touched 16-month high as investors took heart from rising factory output growth in China and a falling unemployment rate in the United States that raised hopes about the outlook for the world's top two economies.

The positive mood was tempered by Chinese trade data that saw both exports and imports come in below forecasts, but equities and commodities such as copper and oil remained in the black.

MSCI's broadest index of Asia Pacific shares outside Japan inched up 0.2% and Tokyo's Nikkei share average firmed 0.1%.

Hang Seng closed higher by 86 points at 22,276, Shanghai Composite jumped 22 points to close at 2,084, Nikkei advanced 6 points to close at 9,534 and Straits Times advanced 9 points to end at 3,116.

The European markets opened on a weak note in trades today with a key index retreating from a 18-month high hit last week on renewed worries over Italy's finances after Prime Minister Mario Monti said he will resign.

Monti's decision to resign revives worries over the country's ability to deal with its debt.

CAC, DAX and FTSE were down 0.2-0.6% each.

Back home, TCS was the top loser among the Sensex stocks.

The stock closed weaker by 2.5% at Rs 1,236 it extended its past four-days fall on fears of lower revenue growth in next year.

The stock of the country's largest IT services company currently trading at four-month low and has underperformed the market by falling almost 6% in past one week compared to 5% decline in IT index.

The benchmark Sensex has gained 0.48% during the same period.

Auto stocks such as Mahindra & Mahindra, Maruti Suzuki and Tata Motors fell 0.7-1% each on reports that automobile exports from India registered a drop of 4.57% during the April to November period this fiscal, compared to the same period last year.

According to data released by the Society of Indian Automobile Manufacturers today, passenger vehicle exports grew by 8.03% during April to
November.
Of this, passenger cars grew by 7.81% at 356,791 units, utility vehicles exports were up 36% to 4,445 units.
Vans, on the other hand, registered a drop in exports to 1159 units, down 8%.
Bharti Airtel, NTPC, index heavyweight Reliance Industries, ICICI Bank, Hindalco, Infosys, Tata Power, Larsen & Toubro, Jindal Steel, ONGC, Coal India, BHEL and ITC also slipped lower in trades today.
On the other hand, HDFC, Dr Reddy's Labs, Cipla, Tata Steel, Sun Pharma, Bajaj Auto, Sterlite Industries, Wipro, SBI and HUL were among the gainers up 0.7-1.6% each.
On the sectoral front, the BSE consumer durables index was the top loser, down 1.5% or 121 points to close at 8,024.
Teck, IT, oil & gas, auto, power, capital goods and metal indices also closed weaker by down 0.1-1% each. While, the BSE realty index with a gain of 1.15% was the top gainer. Healthcare, bankex, FMCG and PSU indices also advanced 0.2-0.6% each.
Among the individual stocks, Claris Lifesicences tanked 10% to Rs 238, extending its Friday's 4% fall, after the company said that its board has approved the sale of its infusion business, on a slump basis, for Rs 1,050 crore.
Historically, these businesses have accounted for around 55% of Claris' business.
Shares of Sesa Goa fell 2% after a panel appointed by India's top court recommended scrapping 42 iron ore mining leases in Goa until mining companies submit plans to deal with the environmental impact and the legal details involved, a lawyer who attended the hearings said.
Shares of sugar manufacturing companies were under pressure in trades on reports that the Uttar Pradesh (UP) has increased State Advised Price (SAP) for sugarcane procurement by more than 15% to Rs 275-290 a quintal for 2012-13 compared to last year.
SAP is the price below which mills cannot buy cane from farmers.
NMDC dipped 4% at Rs 153, extending its Friday's 3% fall on reports that the government is likely to sell its 10% equity this week in iron ore miner through the offer-for-sale route.
The broader markets outperformed the benchmark indices.
The BSE mid-cap index advanced 0.6% or 44 points to shut shop at 7,114 and the small-cap index advanced 0.3% or 25 points to close at 7,470 levels.
The overall breadth was marginally positive as 1,546 stocks advanced while 1,389 declined.