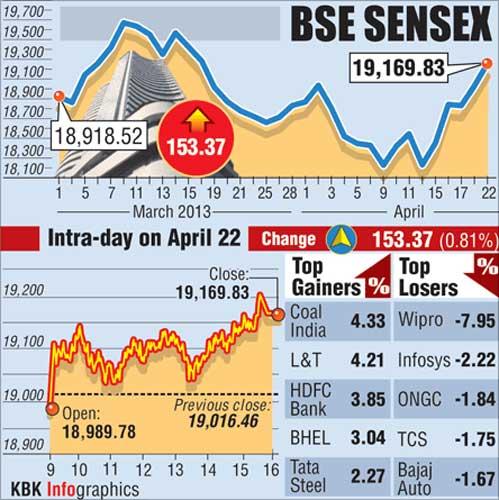 Volatile markets ended in the green with buying interest visible in banks and consumer durables shares.

The volatility is likely to extend as traders roll over their positions from the near month April to May series on Thursday.

The Sensex touched a high of 19,205 and was now up 183 points at 19,200. Nifty was up 51 points at 5,834.

A positive market in Asia ended in the green.

The Nikkei average climbed 1.9 per cent to its highest close in almost five years on Monday, as the yen weakened after the Group of 20 leading economies stopped short of criticising Japan's expansionary monetary policies.

The Nikkei ended up 251.89 points at 13,568.37, its highest closing level since July 2008.

Back home, the rupee dropped by 16 paise to 54.12 against the American currency in the late morning trade on fresh dollar demand from banks and importers on the back of higher dollar in the overseas market.

The second part of the Budget session of Parliament began on a stormy note today as members from various parties forced adjournment of Lok Sabha on various issues, including heckling of Mamata Banerjee, incidents of rapes and demand for separate Telangana.

Broader markets edged up as well.

The BSE mid-cap index out-performed the benchmark index and rose 1.5% at 6,316.

Small-cap index added 1% at 6,031.

The banking space gained ahead of the RBI meet on May 3rd on hopes of a rate cut by the RBI.

The BSE bankex was up 2.8% at 14,463. From the space, HDFC Bank was up 3.8%. ICICI Bank and SBI were up 1-2% each.

Consumer durables, capital goods, realty and metal indices were up 2-4% each.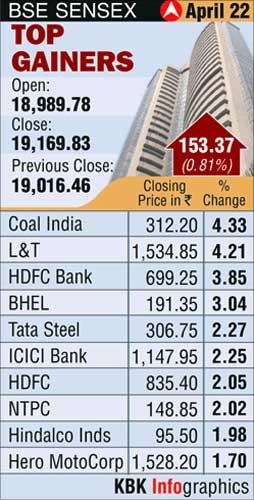 FMCG stocks gained on reports of likely normal monsoon this year.

FMCG companies derive a substantial revenue from rural markets.

However, weakness continued in IT index - down 2.3% at 5762.

IT
major, Wipro came out with its quarterly results and a dissapointing guidance on Friday.
Coal India surged 4% to Rs 312 on reports the Cabinet Committee on Economic Affairs may meet today to discuss coal price pooling.
Larsen & Toubro, BHEL and Hero MotoCorp were up 2-4% each. Markets heavyweight - Reliance was up 1% at Rs 790.
On the other hand, Wipro slipped 8% at Rs 339 after the company forecast weak sales at its technology division for the current quarter ending June 2013.
Wipro forecast revenue of $1.58 billion to $1.61 billion for its IT services business for the quarter ending June quarter, compared with $1.59 billion March quarter.
Meanwhile, the company has reported a marginal 0.72% quarter-on-quarter (qoq) growth in its consolidated net profit at Rs 1,729 crore for the quarter ended March 2013. Total income from operations grew 0.27% at Rs 9,613 crore on sequential basis.
The consolidated results include IT business, consumer care and lighting and others.
"IT seems to be very week, it had started to underperform the market, we think these heavy weights, could put a drag on the index.
HCL and Infy looks most weekest of the lot, we think infy is likely to break its support of 2200 levels.
Wipro had reacted after its results immediately 320 seems a support zone for short term, while TCS had got downside potential till 1350 levels.
Traders should use any upmove to enter into short positions," said Navneet Daga, Derivative Analyst, KR Choksey Securities.
Reliance Communication rallied 13% to Rs 97.70, after the Anil Ambani promoted telecom services firm confirmed that private equity (PE) funds consortium is in advance talks to acquire Reliance Globalcom, a global communications services business unit.
Infosys shed 2.2% at Rs 2,244, followed by Dr Reddy's, Bajaj Auto and ONGC.
The BSE market breadth was positive. Out of 2,532 stocks traded, 1,393 shares advaced while 1,004 shares declined in trades.