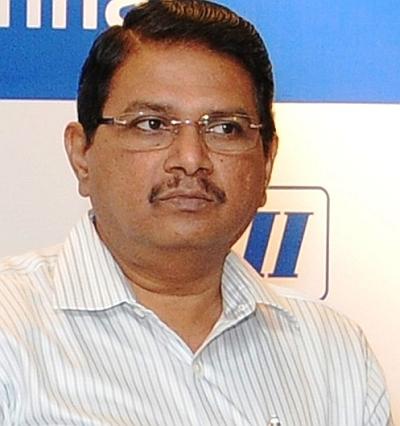 Rama Mohana Rao's son became director of 7 companies after he became chief secretary.
N Sundaresha Subramanian reports.
On May 16, the day J Jayalalithaa assumed office in Tamil Nadu's capital after returning to power in 2011, P Rama Mohana Rao was appointed secretary in the Chief Minister's Office.
Five years later, after she won the re-election, Rao was made the government's chief secretary.
Between these two days, his son Vivek Papisetty, now 34, who did not have a corporate footprint earlier, became the director of seven companies, show Union ministry of corporate affairs filings.
While he had since resigned one of those, he continues to be on the board of the others.
Logistics and staffing are the two key areas these entities have focused on. Many of these are based in Chennai's Nandanam area, where the income tax department conducted searches last week.
The searches at around a dozen places in two states against the son and some relatives of Rao are said to have yielded a haul of Rs 18 lakh (Rs 1.8 million) in cash and gold bars.
The I-T action was in connection with the case related to the biggest haul of new notes after demonetisation.
This was after the department raided some sand mining operators of Tamil Nadu, including Tirumala Tirupati Desvasthanam trustee Shekar Reddy. The raids continued on Thursday in the offices of Papisetty and other locations.
Papisetty's journey in the corporate sector started seven months after his father became secretary in Jayalalithaa's office.
He incorporated 3lok Infra and Logistics in neighbouring Karnataka in February 2012. He had a 51% in this company, which had a capital of Rs 1 lakh, with sister Abhinandana holding 49%.
The company had plans to take up infrastructure projects and run a transport business; it is yet to file a balance sheet.
Another company the son floated was Swan Facility, in October 2013. It has also not filed any accounts so far.
Papisetty then seems to have gone the inorganic way. Blue Ocean Personnel and Allied Services was floated by Arun Anbazhagan and two others with a capital of Rs 1 lakh in 2009.
In November 2013, Papisetty bought a 95% stake and became a director. Anbazhagan, who held 60 per cent, was reduced to 5%.
In February 2015, Papisetty brought in further money, taking the paid up capital to Rs 25 lakh (Rs 2.5 million).
For the year ended March 2015, Blue Ocean had revenue of Rs 17.5 crore (Rs 175 million), on which it booked a profit of Rs 37.7 lakh (Rs 3.77 million).
With Anbazhagan as a partner, he also got into the transport business.
Trans Earth Logistics, incorporated in 2013, booked a profit of Rs 6.7 lakh (Rs 670,000) in its first financial year ending March 2014, on revenue of Rs 6.3 crore (Rs 63 million).
For a freight transport business started with a capital of Rs 9 lakh (Rs 900,000), of which Papisetty had a 51% stake, with Anbazhagan holding the rest, that was an impressive start.
It had also built an impressive client list. Trade receivables totalled Rs 2 crore (Rs 20 million).
The debtors included Chennai Ferrous, GVR Infrastructures, OPG Power, Sri Pathy Associates, Suryadev Power, TG Logistics and Maximus Crushers.
The following year, revenue doubled to Rs 12.5 crore (Rs 125 million), but the company reported a loss of Rs 8.6 lakh (Rs 860,000).
Two other logistics companies have been floated since, Trans Earth Logistics Tech solutions and TEL Karaikal Logistics.
Papisetty also became director of a company called SYS Two Analytics & Research (India) in February 2014, but ceased to hold that position a year later.