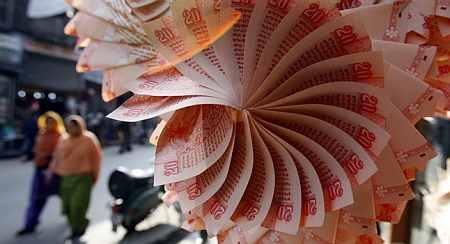 In line with rally in stocks, the Indian rupee on Monday appreciated for the second straight session and closed with a eight paise gain at a one-week high of 61.36 against the Greenback.
A weak trend in US dollar overseas also helped the rupee rise even though sustained selling of the American currency by exporters capped Indian unit's gains, forex traders said.
The dollar index was last trading lower by 0.24 per cent against it major global rivals.
At the Interbank Foreign Exchange (Forex) market, the domestic unit commenced strong at 61.21 a dollar from previous close of 61.44 and immediately touched a high of 61.18.
Later, it met with strong resistance and fell back to a low of 61.37 on dollar demand from importers before concluding at 61.36, still logging a rise of eight paise or 0.13 per cent. Last Friday, it had spurted by 39 paise or 0.63 per cent.
Today's closing value of 61.36 is the strongest level since 61.10 on October 13, 2014.
Pramit Brahmbhatt, Veracity Group, CEO said: "Today, not much movement was seen in the USD/INR pair. The pair is likely to trade range bound as investors are trading cautiously and are waiting for series of data to be released in the ongoing week, which will help them to gauge the markets.
"The trading range for the spot rupee is expected to be within 61.00 to 61.80." Meanwhile, the benchmark S&P BSE Sensex today flared up by 321.32 points, or 1.23 per cent.
Diwali seems to have come early to Dalal Street as benchmark Sensex today zoomed 321 points, its best single-day gain in over a week, on back of much-awaited fuel reforms and hopes of Modi government going ahead with further economic initiatives after BJP's wins in state polls.
However, continued capital outflows restricted the rupee surge. FPIs/FIIs sold shares worth $226.66 million last Friday as per Sebi data. In the forwards market, premium fell back on fresh receipts from exporters.
The benchmark six-month premium payable in March declined to 208-210 paise from 210-212 paise previously.
Far-forward contracts maturing in September, 2015 moved down to 429.5-431.5 paise from 433-435 paise. The Reserve Bank of India fixed the reference rate for dollar at 61.2873 and for the Euro at 78.1536.
The rupee edged up against the pound to 98.99 from 99.00 last Friday while improved further to 78.42 per euro from 78.76. It also remained firm to end at 57.41 per 100 Japanese yen from 57.68.