Infosys needs to be more innovative and disruptive with its product and services, keeping its focus on growth.
Illustration: Uttam Ghosh/Rediff.com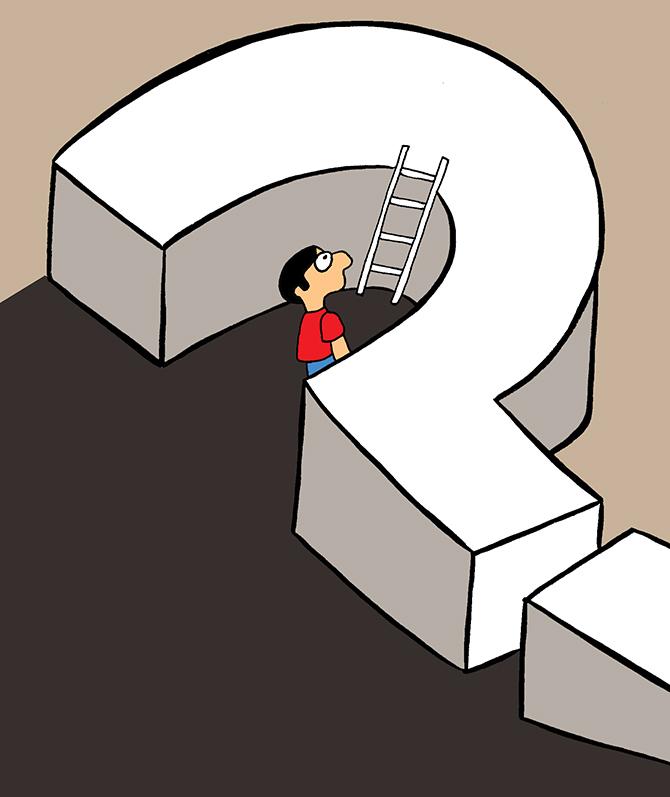 Dealing with bitter boardroom bickering is a tough task. Dealing with senior management ruckus in full public view is worse.
As Infosys goes through a difficult leadership transition, the question uppermost in everybody's mind is, what can the erstwhile IT industry bellwether do to recover lost ground and continue to be the preferred employer brand for job seekers.
While the exit of top-level executives and especially the CEO does impact the morale of the employees, it is something most organisations deal with regularly.
"However, in the case of Infosys what creates a bigger concern are the circumstances under which Vishal Sikka left the company. If the CEO leaves a company saying that he felt he could not freely do his job, it raises questions about whether the company and the employees can perform in such an environment," says Jones Matthew, professor, marketing, Great Lakes Institute of Management, Gurgaon.
Infosys has been an IT industry pioneer.
It is an iconic brand that had, for long, enjoyed a halo for best practices - be it in terms of corporate governance, training programmes, industry leading margins or accurate earnings guidance.
The last few years have, however, frayed its equity to an extent, say experts, because of external market challenges that impacted the Indian IT sector as a whole.
"But the exit of senior executives in key positions in quick succession could see prospective senior management talent being hesitant in considering strategic roles at the company since they may perceive constant hindrance from external stakeholders who are not part of the governance structure but hold influence," adds Matthew.
Not so long ago, the Tata group, another iconic brand, was seized with a boardroom battle that saw CEO Cyrus Mistry pitted against patriarch Ratan Tata.
With the benefit of hindsight, experts say the Tata group was able to put that chapter behind it with aplomb because of its strong presence in the consumer market and an impeccable CSR record.
Tata Group operates in both the business-to-business (B2B) space as well as the business-to-consumer space, while Infosys is a pure-play B2B company.
"The significance of branding as an employer is far more important in the case of organisations operating in the B2B space. Attracting talent is their primary goal and they ought to be proactively protective about it," claims Samit Sinha, founder and managing partner, Alchemist Brand Consulting.
Sinha says workplace culture is of utmost importance. Indeed, while taking career decisions, it is as important as remuneration.
And because the top echelons of management have to work closely with founders and board members, they are far more impacted by the culture of an organisation than, say, mid-level employees.
Evidently, on this front, Infosys has not covered itself in glory with one of the founders openly questioning Sikka's leadership abilities by calling him more of a "chief technology officer material" rather than "CEO material".
Siddharth Reddy, managing director, BI Worldwide India, believes the recent developments at Infosys would result in short-term loss in confidence across the rank and file.
Most probably there would be some more exits, boardroom battle leaks and their repercussions in the financial markets.
However, in the long term, these are challenges that an organisation such as Infosys can absorb and digest.
"Strong organisations can pick up from where they left off the good work and prospective recruits would do well to remember this," he adds.
Maanendra Singh, managing partner, India, Antal International says that in order to deflect the attention from current events, Infosys needs to be more innovative and disruptive with its product and services, keeping its focus on growth.
At this point of time, experts suggest, Infosys' focus should be on containing the damage by making less noise in the media.
Those at the helm should seek out key people and explain the situation to them, clear the air with decisive actions, and identify experienced hands for the various top management positions that are vacant.
Delineating the roles of the founders and the board at the earliest will go a long way in restoring confidence.
"The management needs to constantly communicate with stakeholders," sums up Amit Tandon, founder and managing director, Institutional Investor Advisory Services.
"Above all, they should find a CEO as quickly as possible; but that's the tough part."