USIBC Chairman Ajay Banga Thursday said that while India and the United States may have competing viewpoints on how to broaden and deepen bilateral economic and commercial ties, there's no disputing the fact that there is one agenda - helping India-US relations fulfil their promise.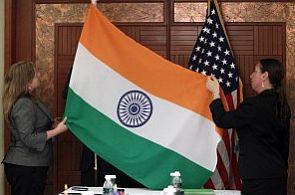 Addressing the USIBC annual leadership meeting and dinner Thursday in Washington DC, Banga, MasterCard President and CEO, said that the two countries want to broaden and deepen their economic and commercial ties as well as strengthen bilateral national security partnership.

"While we may have competing viewpoints on how to get there, there's no disputing we have one agenda - and that's helping India-US relations fulfil their promise. But today, there are cracks in this relationship," he noted.

Banga said that he has written to President Obama two month ago outlining the agenda for progress and the issues that need addressing in the near term - by both countries.

This agenda should include a 'hard look' at Indian tax policy, aspects of which concern investors and must treat the serious challenges to US manufacturers of electronics and IT from India's PMA policy.

"I - and many others - were genuinely heartened to learn that the implementation of this policy has been delayed, pending further study. Further study makes sense as it's a well intended policy aimed at promoting domestic manufacture but one that in effect discriminates against foreign competition,"
said Banga.
Banga said he believes that "it's in our interest not only to open doors to more skilled workers, but also to ensure immigration reform doesn't discriminate against our partners nor limit US. Companies in choosing where they source the IT support they need."
He felt that these issues are "complicated and contentious enough on their own" without the added challenge of electoral politics.
"In India, you have a coalition government that's in the minority and elections are around the corner. In the US, you've got midterm elections a year from this November. And in both countries, you've got political systems that have gotten increasingly polarised. Not exactly a recipe for radical change in economic thinking," Banga said.
During the leadership summit, USIBC presented its prestigious Global Leadership Awards to industry leaders Louis Chênevert, Chairman and CEO, United Technologies Corporation and Analjit Singh, Founder and Chairman, Max India Limited, for their outstanding contributions to the US-India growth story.
Banga was high on US-India relationship during his speech. "The US is better... India is better...the world is better...when we deepen the commercial and national security ties between the largest and the longest running modern democracies. This is what we have to do," Banga said.