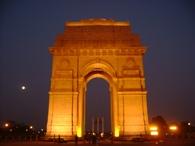 In an effort to ease pressure on Delhi, the Centre has directed the neighbouring states to formulate plans for developing counter magnet cities that have already been identified by the government.
The Union Urban Development Ministry has asked Uttar Pradesh, Haryana, Rajasthan, Punjab and Uttarkhand to prepare detailed plan so that counter magnet cities can be developed in a time bound manner.
Counter magnets are cities developed to reduce the mass migration of people to big cities. This has been stated by the Ministry in its action taken report to the recommendations of the Parliamentary Standing Committee on Urban Development.
The Ministry said the National Capital Region Planning Board, which was set up to formulate a plan for the region, had identified several counter magnet cities including Ambala and Hissar in Haryana, Bareily in Uttar Pradesh, Dehradun in Uttarkhand and Patiala in Punjab.
These cities were sought to be developed to disperse economic activities as well as migration from Delhi.
The report said the NCR Planning Board has been making efforts to raise a loan of Rs 4,000 crore (Rs 40 billion) from Asian Development Bank and the World Bank to finance various infrastructure projects in the NCR region.