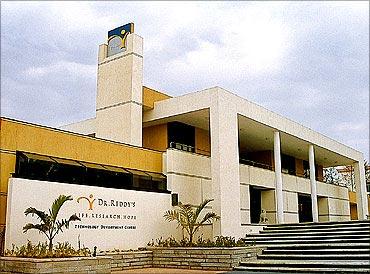 An old pharma warhorse gets a new look as it focuses on how to make its drugs affordable, available and relevant

Dr Reddy's Laboratories, country's second largest pharmaceutical company by revenue, has undergone an image makeover signalling a shift in its focus from a research led strategy to one that is patient led.
"We want to be patient centric rather than molecule centric.
"If there is a lower cost molecule or less profitable molecule but is good for the patient we will focus on that.
"We will also innovate the way product is packaged and delivered," co-chairman and chief executive officer G V Prasad said.

A new logo, colour and tagline were unveiled last month.
The company has adopted the colour purple and the line "Good Health Can't Wait."
This replaces the earlier tagline "Life, Research, Hope" in place since 2001, which was aligned to the company's initial focus on new drug discovery. While the company will continue to remain focused on the generic drug business which contributes to over 80 percent of its revenue, the rebranding efforts will mean greater attention to packaging and customer delivery.

"The rebranding exercise was not aimed purely to change the logo.
"They have a new core belief -- Good Health Can't Wait, a new strategy, which brings them even closer to their patients.
"The change in logo signals a reflection of this vision and is a part of a greater shift," said Zia Patel, director of Wolf Ollins India & Strategy which carried out the rebranding exercise.

Dr Reddy's has spelt out five promises for the brand– to bring expensive medicines within reach, address unmet patient needs, help patients manage disease better, ensure better availability of medicines and work with partners and help them succeed.

Drug affordability has always been a company goal, but Prasad says, "Affordability in the initial days was different.
"In the early days we used to make every product cheaper and that is not a value proposition any longer.
"We have now moved to make products which are challenging, technology driven and are making them affordable," Prasad stated.
This will also help maintain revenue growth in global markets.

Focus on developing proprietary medicines will help address the unmet needs of patients.
"At present company's proprietary products contribute 3-4 percent of its revenue. But it hopes to grow the share.
"Investment in research and development has grown multifold and probably we are the largest spenders on R&D amongst the (Indian) peer group," said company's chief operating officer Abhijit Mukherjee.
About 70 per cent of the R&D spend is towards generics and the balance is on proprietary products and biosimilars (biologic medical products).

In keeping with the brand promise of adopting a patient centric approach, the company has tied up with call centres, IT service platforms and micro finance agencies. For example through a tie up with a call centre it sends out reminders to patients who take Cresp, the company's drug for chronic kidney ailments.
"These are pilot projects. These are early days," Mukherjee added.

"Corporate branding and identities are based more on corporate's philosophy than competitive differential. However with a brand purpose such as "Good Health Can't Wait" Dr Reddy's has put itself in front of the stakeholders in a very desirable way," said Rana Bawa, country manager of Ogilvy CommonHealth Worldwide, health communication arm of Ogilvy.

The company wants its new look to reflect the core changes in its strategy and establish trust with patients. In the recent past there have been similar examples of pharma companies going for an image makeover. Last October US drug maker Abbott unveiled a new brand identity with a tag line "Life. To the Fullest."
The new positioning was based on Abbott's focus as consumer brand that meets emerging health care needs in new markets. For Dr Reddy's, keen to present a unified patient centric approach, the rebranding is a means to convey its intent to all its stakeholders, especially the patients it wants to reach out to.

NEW BRAND, NEW PROMISES
Make medicines affordable
Address unmet patient's needs
Help patients manage diseases better
Ensure better availability of medicines