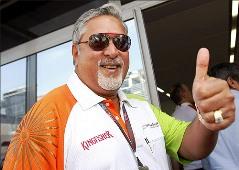 United Spirits sold a phenomenal 125 million cases of whisky, vodka, rum and gin during last year.

A closer look at the numbers reveals that the growth in value is coming from a shade under 8 million cases of spirits which it sells in the prestige and above segment and which is growing at close to 18 per cent.

It is this segment that USL has been focusing on for the past five years and the efforts are slowly starting to show results.

It is in this effort that Diageo's expertise will perhaps come into crucial play.

United Spirits operates on a wafer thin margin of 2 per cent with a net profit of close to Rs 190 crore (Rs 1.9 billion) on a top line of around Rs  9,200 crore (Rs 92 billion).

A majority of its 120 million cases are in the mass segment with brands such as Old Tavern, Green Label, Old Cask, Royal Challenge, McDowell's range and Bagpiper and many others which have phenomenal volume, but many of these have little relevance when it comes to the bottom line.

"We see a combination of the premium end of the business going stronger, which has higher margins, supply chain investments which can give us good returns and marketing investments, which will drive the premiumisation. We do see a route to improved margins, and feel very confident about it," says Ivan Menezes, COO, Diageo.

United Spirits has during the past few years been focusing on the McDowell range of whisky's, rum and brandy and the brands above that range which give them better margins.

For example, in the prestige segment, USL has brands such as Antiquity, Signature, Directors Special, White Mischief. In the ultra-premium segment, USL has a decent presence through Black Dog Scotch whisky and its variants depending on the age of the scotch.

"It is these brands which Diageo will look at to drive growth while also trying to elevate brands such as Royal Challenge into the upper category.

"These are phenomenal brands which USL has built and we need to work on moving our consumers up the value chain," a senior USL executive says.

During the first half of FY13, McDowell's No.1 and Royal Challenge registered healthy growth of 16 and 23 per cent respectively.

While Black Dog Scotch Whisky grew by 19 per cent, other brands in the Prestige and above segment registered healthy growth as a result of which USL product portfolio grew 14 per cent during the quarter and 16 per cent during the half year.

Diageo on the other hand has top of the mind brands such as Johnnie Walker and many of its variants, VAT 69 in the scotch whisky category besides the vodka brand Smirnoff among a few other brands in India.

Diageo has also developed an IMFL brand in Rowson's Reserve which operates in the McDowell's price segment in India.

Diageo was looking at developing more IMFL brands, prior to the deal with USL.

"We will continue to develop Rowson's Reserve, but clearly we will modify our innovation thinking now.

"We will now try and build some of the brands that are already available to us," a Diageo official says.

There isn't much of an over-lap between the brands of Diageo and United Spirits, except for one segment to an extent -- USL's Black Dog scotch whisky competes with Diageo's VAT69 in some of the markets though Black Dog is priced a little higher.

"The deal brings Diageo's strengths in marketing and innovation together with USL's scale, leading local spirits brands, strong routes to market, and an exceptional supply base.

"USL brands sit on a good platform and is a ladder on which Diageo can grow further," the USL official says.

What Diageo will also bring to the table is the ability to invest substantially behind the brands, something that USL was not able to do due to its inherent problems.

On an average, a brand requires close to Rs  20 crore (Rs 200 million) per annum to get a push in the premium segment in the Indian context.

The few products -- VAT69 and Smirnoff -- which Diageo operates in India through the Bottled in India segment is expected to get a big boost by leveraging on the USL network, given the fact that these two brands are among the biggest volume contributors for Diageo in India.

After the announcement with USL, Menezes said : "I think USL in the last couple of years has been strengthening its focus on premiumisation.

"We think we can accelerate it.

"If you look at USL, one-fifth of the brands generate 50 per cent of the bottom line.

"And it's the fastest-growing piece in the marketplace.

"So we think there's tremendous value in this business if we can accelerating premiumisation. It's where the consumer is going.

"It's where the highest growth rates are. So that is a big piece of opportunity we see going forward."
Image: Vijay Mallya | Photograph: Max Rossi/Reuters