Brands leading the shift include Colorbar, MAC, Smashbox, Becca, Innisfree, Bobbi Brown, Bodyography and Sephora.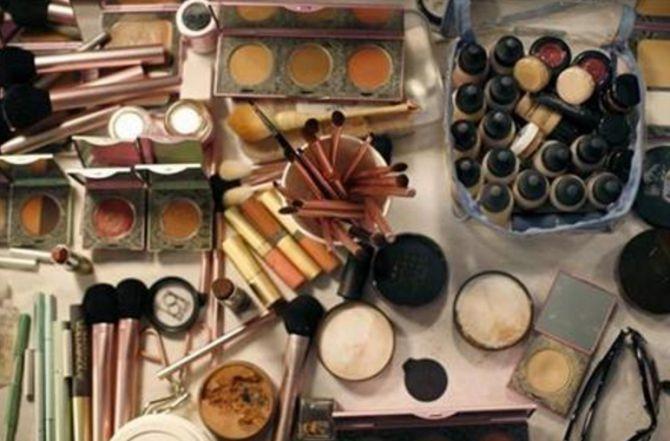 Jigisha Mehta, 25, is the envy of her friends, thanks to a new lipstick collection she purchased online, adding just the right amount of glamour to her 9-to-5 schedule.
Mehta is among the growing number of women shopping online in India for their make-up needs.
As this market swells -- online cosmetics is estimated to grow 10 times in the next few years from Rs 1,000 crore now, according to Red Seer Consulting.
Make-up brands, barring names such as Lakme, L'Oréal and Maybelline, are opting to be visible only online.
Offline presence, if any, is restricted to stores that carry their products.
Brands leading the shift include Colorbar, MAC, Smashbox, Becca, Innisfree, Bobbi Brown, Bodyography and Sephora.
These brands do not advertise on television at all, choosing to woo consumers on digital platforms instead.
Even L'Oréal's make-up line NYX, launched last year in the country, is visible only online and within stores.
Some other brands such as Wet n Wild and The Balm, US cosmetic lines launched in India recently, are even more niche in their approach, opting to be present only on one or two websites such as Nykaa, giving in-store presence a miss.
Reena Chhabra, CEO, FSN Brands, Nykaa, says, "Platforms such as ours are not just e-tailers, but also strong influencers.
"We take a 360-degree approach where products are not only located in the online shop for consumers to browse and purchase, but we also get bloggers to write about brands and beauty trends in general, educate consumers through our beauty books (online tutorials) and talk to them through instagram and other social media channels. This helps maximise sales."
Most beauty brands from Lakme to Maybelline, Colorbar and NYX have YouTube channels that act as influencers, too, pushing tutorials, beauty tips and secrets apart from ads to consumers.
This strategy, say experts, has led to dedicated viewership for these channels, with sales growing.
Aseem Kaushik, director, consumer products division, L'Oréal India, says, "Our media mix has evolved as (media) consumption habits have changed. Our reliance on TV has reduced and spread to other media.
"Currently, digital accounts for approximately 20 per cent of our total (media) mix.
"And as a leading beauty player, we believe beauty and digital are a natural fit."
Platforms such as Nykaa, say experts, have bulk of their cosmetic brands opting to go online first before stepping offline.
The lag between online and offline could vary anywhere between three and six months, pointing to how critical digital has become for this category.
Colorbar's founder and MD Samir Modi says he is consolidating his firm's presence on Nykaa and Myntra, besides Flipkart and Amazon.
"Our strategy is based on what is visible globally.
"Internationally, cosmetic brands are driven heavily by make-up artistes, celebrities and beauty bloggers.
"These people do not have huge advertising budgets that multinational companies do.
"So their first port of call is digital. This trend is catching up fast in India," he says.
Jigar Rambhia, national director, ESP, a unit of GroupM, says, "Most brands want to maximise return on (ad) spends. In the case of beauty and cosmetics, the target group, which is a younger audience, is moving online.
"Digital proves to be a better platform than TV for this TG, making it efficient to reach them that way."
Photograph: Brendan McDermid/Reuters.