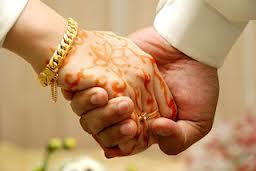 Srinath, a 28-year-old techie, was in a hurry to get married.

His astrologer warned him if his alliance was not fixed in three months, he might have to wait for another five years.

Though in a hurry, he still wanted to stick to the conventional way of choosing the bride.

"I clicked on to Bharat Matrimony, since they had community-based profiling and I got a profile which suited me and my family," he says.

Murugavel Janakiraman, who started the business of online matrimony as a section of his website in 1997, has come across many similar testimonials.

His company, Matrimony.com (till recently known as Consim Info Pvt Ltd) claims it has 60 per cent of the estimated Rs 300-crore (Rs 3-billion) online matchmaking market.

The company runs 15 matrimonial websites under Bharat Matrimony and around 300 websites under Community Matrimony.

From a one-man venture almost 15 years ago, the company now has 4,000 employees.

The company has been expanding into marriage-related businesses to sustain the growth. While declining to share any numbers on the revenue or profit, Janakiraman says the company broke even and made a profit in 2009 and the compounded annual growth rate, in the last three years was around 30 per cent.

Online matrimony companies such as Matrimony.com have been seeing a growth higher than that of the internet so far and in order to sustain it, they have to come up with new services such as 'assisted e-commerce', says Mrutyunjay Mishra, founder of JuxtConsult Research and Consulting.

Assisted e-commerce is a model in which the company opens stores in places with low internet penetration to assist customers to get registered and use the website for matrimony services.

Bharat Matrimony, of late, started diversification into the marriage-related service business, including matrimonial gifts, a return gift store chain format, Tambulya, and a matrimony directory which provides details of various marriage-related services.

The services business now contributes around 10 per cent of the total revenue.

Diversification into related services like matrimony directory and Tambulya are steps towards sustaining the growth momentum, says Alok Mittal, managing director, Canaan Partners, one of the investors in the company.

Matchmaking is only a small pie of the huge business opportunity in a conventional Indian marriage.

"Around Rs 800,000 is spent on an average for a marriage and we were getting only one per cent of it as our revenue.

"We can get more and there is a huge opportunity lying there,"
says Janakiraman. Almost 90 per cent of its revenue comes from user subscription fee, which ranges from Rs 3,290 to Rs 50,000 (elite) for three months.
It has 2.5 million active members.
The premium services like the Elite matrimony and Celebrity matrimony were evolved as models to add to the revenue.
The company has a telemarketing team to canvass more free users to become a paid member.
Janakiraman says one of the major challenges for its business is to convert the casual visits into the site into paid log-ins.
However, online matrimony sites cannot rely only on subscription model for growth, because of the very nature of the internet, which offers free access to information, says an expert from a rival firm, on condition of anonymity.
As part of business expansion,
Matrimony.com
has entered into new niche businesses like real estate (
indiaproperty.com
) and the job portal (
clickjobs.com
), but later it hived off such businesses and sold a majority stake in the job portal, to focus on the opportunities in the matrimonial sector.
Online matrimony business also requires continuous investment on customer acquisition, as the customer lifetime is on an average about six to nine months, after which he/she might quit the site, whether they have found a partner or not, says Mishra.
The increasing presence of social networking sites and dating sites, which also act as a meeting place for unmarried people, poses a threat to matrimony sites to an extent, he added.
However, this could be changed to opportunity if the companies integrate with social networking sites.
In its efforts to grow, it has also raised around $20 million from private equity/venture capital firms.
In 2006, Consim received a $8.65 million from Yahoo! and Canaan Partners and a second round in 2008 to the tune of $11.65 million from Yahoo!, Mayfield Fund and Canaan Partners.
Recently, Yahoo! has exited by diluting its 12 per cent stake for around Rs 100 crore, which was picked up by Bessemer Venture, Mayfield Fund and Canaan.
Way forward
The next big step for the company would be an initial public offering, may be next year, which will also open doors for its investors to exit.
While Janakiraman said the amount of fund-raising is yet to be decided, sources say Canaan Partners, which invested $10 million in tranches, would get around 10 times of its investment in its exit.
The company would be looking at the funds to expand its global operations, says Janakiraman.
It has already started matrimony sites in Pakistan, Bangladesh and Sri Lanka.