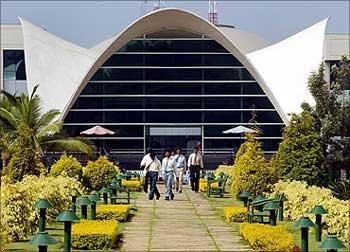 Infosys on Thursday appointed Vishal Sikka, a former SAP board member, as CEO and Managing Director of the company.

He will be the first outsider to lead India's second largest software services firm.
Stating that he is looking forward to working with talented Infoscions, Vishal Sikka said, "I am honoured to lead Infosys, an iconic company built by pioneers in the technology industry. I look forward to working with and learning from talented Infoscions around the world."
Vishal Sikka has worked closely with leaders of global companies in building breakthrough business solutions, said an Infosys statement.
Expressing his happiness on the appointment of Sikka, Executive Chairman N R Narayana Murthy said, "I am pleased with the selection of Dr Vishal Sikka as our new CEO. Vishal brings valuable experience as a leader of a large, global corporation. His illustrious track record and value system make him an ideal choice to lead Infosys. On behalf of all of us at Infosys, I would like to thank Mr Gopalakrishnan, Mr Shibulal and Mr Batni for their contributions."
At SAP, Vishal Sikka was responsible for all products, from traditional and cloud-based applications to technology and platform products including HANA, analytics, mobile and middleware.
"Computing technology is reshaping every industry across every walk of life. We at Infosys have a unique opportunity to deliver breakthrough solutions that will bring greater value to our clients, employees, investors and other stakeholders. I am grateful to the Infosys Nominations and Governance Committee, Mr Kamath, Mr Murthy and the Board for this opportunity," Sikka added.
In addition, Sikka led multiple initiatives to accelerate innovation and research at SAP. He holds a PhD in computer science from Stanford University, USA.
K V Kamath, Lead Independent Director and Chairman of the Nominations & Governance Committee, said,"The committee adopted a rigorous selection process with the assistance of reputed global executive search and evaluation firms. Vishal brings a unique combination of technology prowess and business acumen. The Board is committed to support him to strengthen the company's leadership in the global technology industry."